Friday, September 15th marked the beginning of Hispanic Heritage Month – a time to come together to celebrate the different traditions and achievements of Hispanic Americans. The Waukegan Public Library will be hosting multiple events to celebrate Hispanic Heritage Month, including a Loteria night, a traditional Mexican dance class, and our popular sugar skull decorating workshop, along with multiple book and informational displays. We'll have dozens of books on display for the entire month, but if you want to get a head start on some reading, here are a few titles to get you going. Click on a cover or a title to place a hold, and keep watching the blog for more Hispanic Heritage Month-themed posts over the next several weeks!
The Book of Unknown Americans by Cristina Henriquez
FICTION HENRIQUEZ
"Arturo and Alma Rivera have lived their whole lives in Mexico. One day, their beautiful fifteen-year-old daughter, Maribel, sustains a terrible injury, one that casts doubt on whether she'll ever be the same. And so, leaving all they have behind, the Riveras come to America with a single dream: that in this country of great opportunity and resources, Maribel can get better. When Mayor Toro, whose family is from Panama, sees Maribel in a Dollar Tree store, it is love at first sight. It's also the beginning of a friendship between the Rivera and Toro families, whose web of guilt and love and responsibility is at this novels core."
---
Burn Baby Burn by Meg Medina
YA FICTION MEDINA
"Nora Lopez is seventeen during the summer of 1977, when New York is besieged by arson, a massive blackout, and a serial killer named Son of Sam. Meg Medina transports us to a time when tempers and temperatures ran high to share the story of a young woman who discovers that the greatest dangers are often closer than we like to admit."
---
Signal to Noise by Silvia Moreno-Garcia
FANTASY MORENO-G
"Mexico City, 1988: Long before iTunes or MP3s, you said "I love you" with a mixtape. Meche, awkward and fifteen, has two equally unhip friends, Sebastian and Daniela, and a whole lot of vinyl records to keep her company. When she discovers how to cast spells using music, the future looks brighter for the trio. The three friends will piece together their broken families, change their status as non-entities, and maybe even find love. Mexico City, 2009: Two decades after abandoning the metropolis, Meche returns for her estranged father's funeral. It's hard enough to cope with her family, but then she runs into Sebastian, reviving memories from her childhood she thought she buried a long time ago. What really happened back then? What precipitated the bitter falling out with her father? Is there any magic left?"
---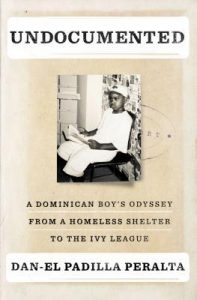 Undocumented: A Dominican Boy's Odyssey From a Homeless Shelter to the Ivy League by Dan-el Padilla Peralta
B PAD
"A Princeton University salutatorian describes his experiences as an undocumented immigrant youth in New York City, relating his efforts as a scholarship student in a private school that sharply contrasted with his street life in East Harlem."
---
The Education of Margot Sanchez by Lilliam Rivera
YA FICTION RIVERA
"Margot Sanchez is paying off her debts by working in her family's South Bronx grocery store, but she must make the right choices about her friends, her family, and Moises, the good looking but outspoken boy from the neighborhood."
Happy reading!
—Katie, Adult Reference