Women's History Month, Part 3 – YA
Welcome to Part 3 of our Women's History commemoration, where we look at some of the amazing female-driven YA fiction being published today. Click on a book cover or title to place a hold!
Click here if you missed Part 1 or Part 2 of our blog posts, and if you're looking for more suggestions, check out our Goodreads page or our Pinterest board.
Four years after Theo's best friend, Donovan, disappeared at age thirteen, he is found and brought home and Theo puts her health at risk as she decides whether to tell the truth about the abductor, knowing her revelation could end her life-long dream of becoming a professional ballet dancer.  A heartbreaking yet hopeful debut YA novel.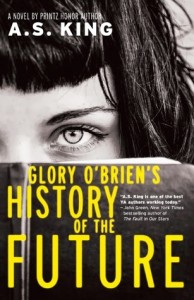 Glory O'Brien's History of the Future by A.S. King
One night, Glory O'Brien and her friend ingest the powdered remains of a dead bat, which gives them the power to see a person's infinite past and their infinite future.  (Yes, it's strange, but just go with it.)  Glory is bombarded with visions, and eventually she realizes that she is seeing a terrifying future when women's rights are struck down, civil war breaks out again, and young girls disappear on a regular basis.  A.S. King's novels are like nothing you've ever read, and this one is no exception.  Glory O'Brien is a true heroine of our modern times.
After losing both of her parents, Ash is forced into servitude by her stepmother and stepsisters, until an enchantment allows her to attend a ball, where she captures the heart of the prince. But here's the difference between this story and Cinderella: Ash's fairy godmother is actually an ethereal male named Sidhean, and Ash ends up falling head-over-heals in love with Kaisa, the king's beautiful huntress.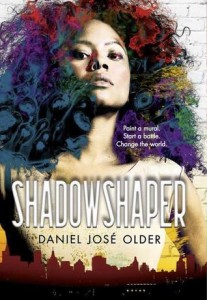 Shadowshaper by Daniel Jose Older
Sierra Santiago thinks she's in for a typical Brooklyn summer, but when she starts seeing graffiti murals start to weep in Bed-Stuy, she realizes something strange is going on.  A supernatural order known as the Shadowshapers has operated in New York City for generations, and Sierra is linked to them through her grandfather.  But someone has turned the order's magic against them and Sierra must harness her own powers and dodge an army of supernatural creatures in order to save her family.
Cath and her twin sister, Wren, are college freshmen, but when Wren announces that she doesn't want to share a dorm room with her sister anymore, Cath finds herself out of her comfort zone and unwilling to give up one of the most important connections she used to have with her sister: the fandom and fan fiction of Simon Snow.  A funny, sad, and inspirational coming-of-age story from the best-selling author of Eleanor and Park.
Want more?
The Secret Sky by Atia Abawi
Speak by Laurie Halse Anderson
This Star Won't Go Out: The Life and Words of Esther Grace Earl by Esther Earl
Poisoned Apples: Poems For You, My Pretty by Christine Heppermann