Women's History Month, Part 2 – Nonfiction
In part 2 of our celebration of women in writing, we're focusing on nonfiction: political figures, history, pop culture memoirs, creative inspiration, and more.  Click on the cover or title of each book to place a hold in the library's catalog.
If you missed our list of fiction suggestions for Women's History Month, click here.  And if you want even more suggestions, check out the library's Goodreads page or our Pinterest board!
Notorious RBG: The Life and Times of Ruth Bader Ginsberg by Irin Carmon & Shana Knizhnik
Think you know about Ruth Bader Ginsberg?  Think again.  This irreverent biography gives us an inside look at the life and career of one of the Supreme Court's most noteworthy justices.  Just remember, you can't spell "truth" without "Ruth."
You're Never Weird on the Internet (Almost) by Felicia Day
This memoir chronicles the author's rise from awkward homeschooler to slightly less awkward Internet celebrity, with plenty of humor, inspiration, and insight.  Even if you're not familiar with Felicia Day, you'll still be able to relate to her struggles and insecurities.
Smoke Gets In Your Eyes: And Other Lessons From the Crematorium by Caitlin Doughty
Part memoir, part inside look at the American death industry, this short yet powerful book will pique your most morbid curiosities about what actually happens to the bodies at the funeral home, and will get you thinking about our cultural fear of mortality.  If you liked Stiff by Mary Roach, this is a great book to try.
Big Magic: Creative Living Beyond Fear by Elizabeth Gilbert
Elizabeth Gilbert, best-selling author of Eat, Pray, Love and The Signature of All Things, shows us that everyone has a creative genius inside of them, and teaches us how to be brave enough to recognize that genius.  If you've ever wondered about the creative process, or struggled with the fear of creating something new, this is a must-read book.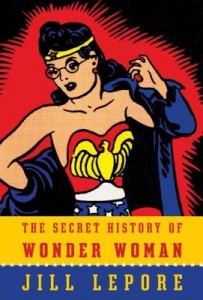 The Secret History of Wonder Woman by Jill Lepore
Behind the most popular female super hero of all time lies a fascinating family saga and a hidden cultural history of 20th century feminism.  This book was listed as one of ALA's Notable Nonfiction titles for adults in 2015.
Want more?
Sin in the Second City: Madams, Ministers, Playboys, and the Battle for America's Soul by Karen Abbott
The Immortal Life of Henrietta Lacks by Rebecca Skloot
Reading Lolita in Tehran: A Memoir in Books by Azar Nafisi
Wonder Women: Sex, Power, and the Quest for Perfection by Debora L. Spar
Save