Weird and Wonderful Books
Some books defy categorization, whether it's through genre, characters, or a story that's just plain bonkers. ("Bonkers" is, in fact, an official library term, and we use it frequently!) Some of these are funny, some of them are disturbing, and some are a mix of both. Weird books like these keep our reading lives interesting, so we've put together a display of some of the most bizarre stories we could find. We highlighted a few of our favorites here, but you can see the full display at the library through the middle of March, and you can also find an extended reading list in our online book list collection under "Displays." Just click on a cover or a title to place a hold!
---
Geek Love by Katherine Dunn
FICTION DUNN
"Here is the unforgettable story of the Binewskis, a circus-geek family whose matriarch and patriarch have bred their own exhibit of human oddities (with the help of amphetamine, arsenic, and radioisotopes). Their offspring include Arturo the Aquaboy, who has flippers for limbs and a megalomaniac ambition worthy of Genghis Khan . . . Iphy and Elly, the lissome Siamese twins . . . albino hunchback Oly, and the outwardly normal Chick, whose mysterious gifts make him the family's most precious–and dangerous–asset.  As the Binewskis take their act across the backwaters of the U.S., inspiring fanatical devotion and murderous revulsion; as its members conduct their own Machiavellian version of sibling rivalry, Geek Love throws its sulfurous light on our notions of the freakish and the normal, the beautiful and the ugly, the holy and the obscene."
---
American Housewife by Helen Ellis
FICTION ELLIS
"Meet the women of American Housewife: they wear lipstick, pearls, and sunscreen, even when it's cloudy. They casserole. They pinwheel. They pump the salad spinner like it's a CPR dummy. And then they kill a party crasher, carefully stepping around the body to pull cookies out of the oven. These twelve irresistible stories take us from a haunted prewar Manhattan apartment building to the set of a rigged reality television show, from the unique initiation ritual of a book club to the getaway car of a pageant princess on the lam. Vicious, fresh, and nutty as a poisoned Goo Goo Cluster,American Housewife is an uproarious, pointed commentary on womanhood."
---
The Big Over Easy by Jasper Fforde
FANTASY FFORDE
"Ovoid D-class nursery celebrity Humpty Stuyvesant Van Dumpty III, minor baronet, ex-convict, and former millionaire philanthropist, is found shattered to death beneath a wall in a shabby area of town. All the evidence points to his ex-wife, who has conveniently shot herself. But Detective Inspector Jack Spratt and his assistant Mary Mary remain unconvinced, a sentiment not shared with their superiors at the Reading Police Department, who are still smarting over their failure to convict the Three Pigs of murdering Mr. Wolff. Before long Jack and Mary find themselves grappling with a sinister plot involving cross-border money laundering, bullion smuggling, problems with beanstalks, titans seeking asylum, and the cut and thrust world of international chiropody.And on top of all that, the JellyMan is coming to town."
---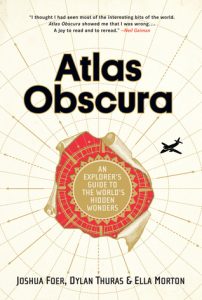 Atlas Obscura: An Explorer's Guide to the World's  Hidden Wonders by Joshua Foer
910.202 FOER
"Inspiring equal parts wonder and wanderlust, Atlas Obscura celebrates over 700 of the strangest and most curious places in the world. From the dazzling glowworm caves in New Zealand to the Baby Jumping Festival in Spain, from the eccentric bone museums in Italy to a weather-forecasting invention that was powered by leeches, still on display in Devon, England, you'll find yourself quickly wandering off the beaten path."
---
The Library at Mount Char by Scott Hawkins
HORROR HAWKINS
"After she and a dozen other children found them being raised by "Father," a cruel man with mysterious powers, Carolyn and her "siblings" begin to think he might be God; so when he dies, they square off against each other to determine who will inherit his library, which they believe holds the power to all Creation."
---
The Hike by Drew Magary
FANTASY MAGARY
"When Ben, a suburban family man, takes a business trip to rural Pennsylvania, he decides to spend the afternoon before his dinner meeting on a short hike. Once he sets out into the woods behind his hotel, he quickly comes to realize that the path he has chosen cannot be given up easily. With no choice but to move forward, Ben finds himself falling deeper and deeper into a world of man-eating giants, bizarre demons, and colossal insects."
Happy reading!
—Katie, Adult Reference
Save
Save