It's that magical time of year!  I asked all of the Waukegan Public Library staff members to send me their favorite book(s) of 2016, along with a short blurb about why they liked the book.  (Books did not have to be published in 2016.)  We managed to come up with almost 70 titles that span fiction, nonfiction, graphic novels, and more, so you're bound to find something new to read on this list!  Click on a book cover or a title to place a hold.
Fiction
Britt-Marie Was Here by Frederik Backman
FICTION BACKMAN
"A 63-year-old woman finds the courage to walk out on her loveless 40 year marriage and start her life all over again."
Sorcerer to the Crown by Zen Cho
FANTASY CHO
"A really solid work of historical fantasy set in Victorian-era England with a rich, multicultural cast of characters."
The Trespasser by Tana French
MYSTERY FRENCH
"Yep, Tana French has done it again. Great mystery, fantastic characters, a really awesome addition to the Dublin Murder Squad series."
Parasite by Mira Grant
SCIENCE FICTION GRANT
"Enthralling and alarming dystopian science fiction – perfect for readers who enjoyed Divergent or The Hunger Games, but are looking for something geared towards older audiences."
Rise: The Complete Newsflesh Collection by Mira Grant
HORROR GRANT
"Horror with incredible emotion (and quirky humor), this is probably better if you have read the Newsflesh series."
Homegoing by Yaa Gyasi
FICTION GYASI
"Somehow, Yaa Gyasi managed to include centuries worth of African history in this 400 page novel, told through a series of vignettes that follow two separate branches of the same family tree. It's a beautiful and moving story of history, colonialism, racism, and past injustices that continue to affect the present."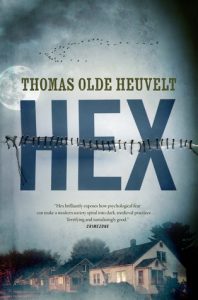 Hex by Thomas Olde Heuvelt
HORROR HEUVELT
"One part Blair Witch Project, one part modern technology. One of the most solid horror novels I've read in a long time, from start to finish."
News of the World by Paulette Jiles
FICTION JILES
"Elderly, retired soldier Captain Jefferson Kyle Kidd rides from town to town in post Civil War Texas, reading the news of the world to paying audiences.  Orphaned, ten-year-old Johanna, kidnapped by the Kiowa tribe as a young child and raised as their own, has recently been recovered from the tribe. Captain Kidd agrees to return her to her family, a dangerous 400 mile route to San Antonio. Historical, suspenseful and engaging."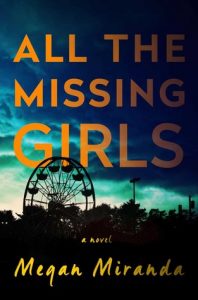 All the Missing Girls by Megan Miranda
MYSTERY MIRANDA
"A psychological thriller about the disappearance of two local girls, told in reverse chronological order."
Everything I Never Told You by Celeste Ng
FICTION NG
"A really lyrical story of grief, family, racism, sexism, and the expectations and burdens parents unknowingly place on their children."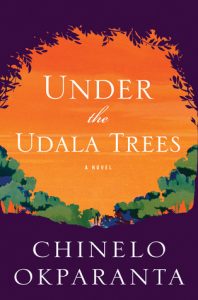 Under the Udala Trees by Chinelo Okparanta
FICTION OKPARANT
"Historical fiction that tells the story of a young woman in Nigeria who must deal with civil war, losing her family, and an attraction to another young woman from a different ethnic community."
Small Great Things by Jodi Picoult
FICTION PICOULT
"An African-American labor and delivery nurse is accused of murder when the newborn baby of a white supremacist couple dies unexpectedly under her care."
The Art of Racing in the Rain by Garth Stein
FICTION STEIN
"The book is written from the perspective of a dog, which is what got me magnetized to it (given that I'm a dog person.) It's a simple yet uplifting story of love, family, and hope. It's also very philosophical which I thoroughly enjoyed!"
The Martian by Andy Weir
SCIENCE FICTION WEIR
"This #1 New York Times bestseller tells the story of astronaut Mark Watney, who becomes stranded on Mars, alone. He must use his knowledge of engineering to survive while waiting for rescue."
The Edge of Worlds by Martha Wells
Available through LinkIn
"Wells' strength is her ability to world-build, and she builds worlds many times over in this book. Every new fantastic species you meet has their own culture to go with their particular physiology, and it's fascinating to learn about each one as they show up."
Another Brooklyn by Jacqueline Woodson
FICTION WOODSON
"Four girls in 1970s Brooklyn come of age and learn how to deal with parents, loss, and abuse."
Nonfiction and Biography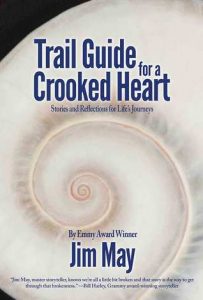 Trail Guide for a Crooked Heart by Jim May
170.44 MAY
"A collection of stories, musings, and wise words from celebrated storyteller Jim May, who frequently performs at the Library's Ray Bradbury Storytelling Festival."
Another Day in the Death of America: A Chronicle of 10 Short Lives
303.6083 YOUNGE
"As we mark more and more deaths of young brown and black men this book gives us the stories of the varied and complicated lives of 10 people killed in America. In stories longer than a sound bite and bigger than a passing paragraph in the local paper we look at the larger issues of greater access to guns and a diminishing lack of mental health care, education, job prospects, and militarized police, and racism in America. These currents provide the perfect storm for the growing violence in America and often our children are the ones who pay the price."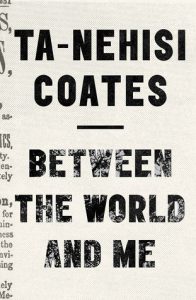 Between the World and Me by Ta-Nehisi Coates
305.8 COATES
"A must-read work of racial history, written as a letter from the author to his 15-year-old son."
Girls and Sex: Navigating the Complicated New Landscape by Peggy Orenstein
306.7083 ORENSTEI
"An updated look at how young woman deal with modern sexuality, told through both research and personal stories."
Evicted: Poverty and Profit in the American City by Matthew Desmond
339.46 DESMOND
"Focusing on the poorest neighborhoods of Milwaukee, Desmond explains the housing crisis and the issues of poverty and inequality in the United States."
Missoula: Rape and the Justice System in a College Town by Jon Krakauer
362.883 KRAKAUER
"Another hard-hitting work of nonfiction – extremely timely and infuriating. I felt so angry reading this book, but glad that Jon Krakauer was giving it the attention it deserved."
Columbine by Dave Cullen
373.7888 CULLEN
"An incredibly thorough examination of the events leading up to, and following, the Columbine high school shooting. Quite possibly the best nonfiction book I've ever read."
Beyond Words: What Animals Think and Feel by Carl Safina
591.56 SAFINA
"An amazing read for all who believe wrongly that animals don't feel, think, remember, are joyful or feel grief. It offered very rare glimpses into the worlds of wolves, whales, elephants and other animals documenting anger, jealousy, maternal care, devotion, grief and joy. I came away with a deeper understanding of how interrelated we all are and how much we can learn from animals about our own human interactions."
Strong: Nine Workout Programs for Women to Burn Fat, Boost Metabolism, and Build Strength For Life by Lou Schuler & Alwyn Cosgrove
613.7108 SCHULER
"This book doesn't dumb anything down while simultaneously explaining all the lifting jargon I didn't know as a beginner. The book does expect you have access to a variety of gym equipment, so may not be suitable for at home bodyweight-only trainers. The program is long, but that's what I was looking for, and also has photographs for how to do each exercise."
When Breath Becomes Air by Paul Kalinithi
616.9942 KALANITH
"Paul Kalanithi is fascinated, as he wrote, "by the question of what, given that all organisms die, makes a virtuous and meaningful life."  Young, embarking on a brilliant career in neurosurgery and research, he is diagnosed with stage IV lung cancer. His poignant memoir is inspiring—a must read."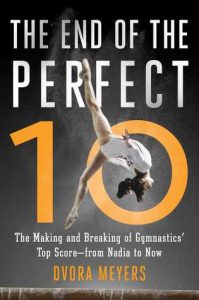 The End of the Perfect 10: The Making and Breaking of Gymnastics' Top Score – From Nadia to Now by Dvora Myers
796.4409 MYERS
"Fascinating look at professional gymnastics history and culture, from Nadia Comaneci to Simone Biles. A great read if you were bitten by the gymnastics bug during the Olympics!"
I'm Judging You: A Do-Better Manual by Luvvie Ajayi
817.6 AJAYI
"Luvvie Ajayi was delightful when I saw her speak at a book conference, and her book is hilarious, on point, and in your face about all the ways we need to do better.  Also, the cover has a side-eye lollipop, and I don't know what else you could ask for in a book!"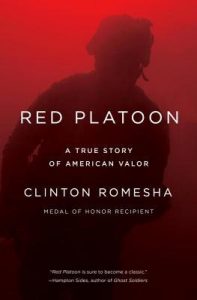 Red Platoon: A True Story of American Valor by Clinton Romesha
958.1047 ROMESHA
"I read Jake Tapper's Book The Outpost in 2012 about Combat Outpost Keating in Afghanistan, only 14 miles from the Pakistan border and how 300 Taliban tried to overrun the camp in 2009.  Red Platoon is the same story though as seen from the eyes of Staff Sargent Clint Romesha who was stationed at COP Keating and ultimately received the Medal of Honor for his heroic actions on October 3, 2009.  Eight US soldiers died that day in defense of the outpost and over 150 of the enemy were killed.  It's a story of triumph over unbelievable odds."
Steve Jobs by Walter Isaacson
Available through LinkIn
"Isaacson takes information gained through forty interviews with Steve Jobs, and gives the reader insight into the intensity of Steve Jobs – the co-founder of Apple Inc."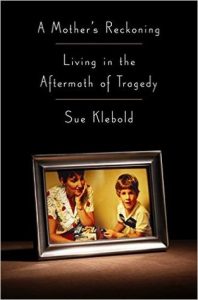 A Mother's Reckoning: Living in the Aftermath of Tragedy by Sue Klebold
B KLE
"The mother of one of the Columbine High School shooters tells the story of the events that led to her son's actions, as well as how she's dealing with things today."
Just Mercy: A Story of Justice and Redemption by Bryan Stevenson
B STE
"A searing look at America's judicial system and how "unjust" that justice system really is. If you are poor, if you are uneducated, if you are a person of color you are less likely to receive adequate defense and more likely to have a longer and harsher sentence. The author, Bryan Stevenson, lives, breathes and defends those cases on behalf of his not for profit agency while calling us all to action to work to change our broken system by allowing us a look into the world of the wrongly accused, wrongly convicted or wrongly defended."
Hillbilly Elegy: A Memoir of a Family and a Culture in Crisis by J.D. Vance
B VAN
"Really interesting book that helps explain why certain states voted the way they did in the presidential election."
Shrill: Notes From a Loud Woman by Lindy West
B WES
"A very funny look at very serious issues such as body image, sexuality, and how women are viewed in today's world."
The Stranger In the Woods: The Extraordinary Story of the Last True Hermit by Michael Finkel
Coming in 2017!
"I have always loved books about hermits and this one is supposedly about the story of the "last true hermit," so it got my attention.  Fascinating true account of a guy living alone undetected in the Maine woods for 27 years.  Talk about solitude and survival."
Audiobooks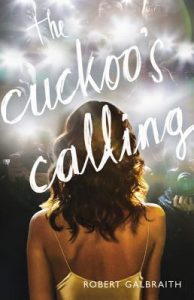 Cormoran Strike series by Robert Galbraith
CD FIC GALBRAIT
"All of the novels are about Cormoran Strike, a detective who solves crimes accompanied by his assistant Robin. The novels are suspenseful and I love the chemistry between Cormoran and Robin. I'm eagerly awaiting the next novel which is set to be released in 2017 and I've also been following the development of a TV series that will debut this year on the BBC."
The Rosie Project by Graeme Simsion
CD FIC SIMSION
"This book was so cute. I enjoy a romance every now and again, but this one was different. The main character was just so unaware of social everythings because of his Asperger's, but it didn't stop him finding love on his own—someone who contradicted everything he thought he wanted in a partner."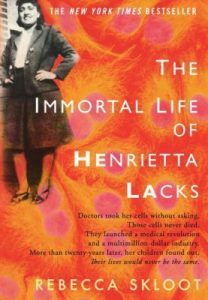 The Immortal Life of Henrietta Lacks by Rebecca Skloot
CD 616.0277 SKLOOT
"A fascinating yet largely unknown part of medical and racial history with a surprisingly human element."
Graphic Novels & Manga
March trilogy by John Lewis
GRAPHIC NOVEL MARCH
"Three graphic novels that tell the story of Congressman John Lewis's role in the Civil Rights Movement."
Ms. Marvel series by G. Willow Wilson
GRAPHIC NOVEL MISS
"A mainstream comic where the main character is a female, Pakistani-American teenager. Amazing writing, quirky humor, and tons of little jokes in the background."
Zen Pencils, Vol. 2: Dream the Impossible Dream by Gavin Aung Than
GRAPHIC NOVEL ZEN
"What inspirational posters dream of being when they grow up – truly inspirational passages with Gavin Aung Than's artwork telling a story."
A Bride's Story by Kaoru Mori
MANGA BRIDE'S
"Gorgeous manhwa (Korean graphic novel) set along the Silk Road during the 19th Century. The artwork is breathtaking, and the writing is beautiful."
Bird Boy Vol. 1: The Sword of Mali Mani by Anne Szabla
J GN BIRD
"Kid-friendly graphic novel with an eerie, enthralling style that reminds me of Pacific Northwest native artwork."
Hilo, Book 2: Saving the Whole Wide World by Judd Winick
J GN HILO
"Kid-friendly graphic novel with diverse characters and quirky humor."
Lumberjanes series by Noelle Stevenson
J GN LUMBERJA
"It doesn't matter that this series is written for middle schoolers – it's an absolute delight! It's mythological creatures and hipster Yetis and feminist Girl Scouts/hardcore-lady-types."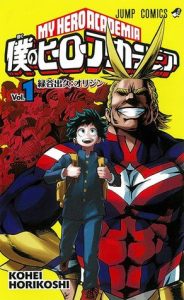 My Hero Academia by Kohei Horikoshi
J MANGA MY
"This series is everything and is quickly topping my personal favorite manga of all time. I identify a lot with the main character who strives to be something more than he is. He's someone who is awkward and continually doubts himself, but he never gives up on his dream despite the near impossible odds he faces of ever achieving them. He's the kind of person I want to be and is a reflection of everything I value. Not to mention this manga has some amazing action sequences and also doesn't take itself too seriously. I love it!"
Young Adult/Teen Fiction
The Row by J.R. Johansson
YA FICTION JOHANSSO
"A seventeen-year-old girl never misses a visit to her convicted serial killer father and maintains his innocence, but her world is turned upside down when one day he confesses that he did it – and then immediately takes it back."
Rose Daughter by Robin McKinley
YA FICTION MCKINLEY
"A lovely novel inspired by the Beauty and the Beast fairytale. This is one of my all-time favorite books."
Burn Baby Burn by Meg Medina
YA FICTION MEDINA
"A supremely compelling story about a Latina girl living in New York City in 1977, trying to navigate adulthood, serious family problems, violence in the city, and a serial killer on the loose."
Dumplin' by Julie Murphy
YA FICTION MURPHY
"Colorful characters and unlikely heroes? Check. Scenes that will make you laugh or cry or cringe? Check. Great soundtrack? Check. This book has it all—and will inspire you to go big or go home!"
This is Where It Ends by Marieke Nijkamp
YA FICTION NIJKAMP
"I think I needed something emotionally draining at the time that I read this. I had been having a hard time finding something that would shatter my heart until Katie suggested it in our high school book talks. It was everything I needed and I could not put it down. Since it was an eBook, I read it on my phone at every moment I could spare. Didn't matter if I was sitting, standing, at home, in the car, at the store waiting in line. I finished it in a matter of hours."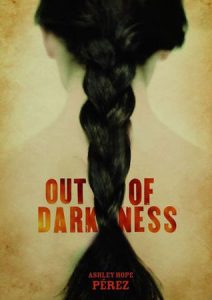 Out of Darkness by Ashley Hope Perez
YA FICTION PEREZ
"The heart wrenching love story between a Mexican girl and an African-American boy in 1937 East Texas."
If I Was Your Girl by Meredith Russo
YA FICTION RUSSO
"A coming of age story about a transgender teen in the South, written by a transgender author."
All the Rage by Courtney Summers
YA FICTION SUMMERS
"A young girl is sexually assaulted by the sheriff's son, and no one believes her…until news about another girl emerges. An incredibly difficult but necessary read."
The Sun is Also a Star by Nicola Yoon
YA FICTION YOON
"A Korean-American boy must come to terms with the fact that the Jamaican girl he fell in love with that morning is being deported in twelve hours."
Original Fake by Kristen Cronn-Mills
TEEN CRONN-MI
"Teen novel filled with eccentric characters, being true to yourself, and discovering what matters in your life. Definitely quirky humor."
Games Wizards Play by Diane Duane
TEEN DUANE
"Excellent modern fantasy for teens. Great diversity in characters, with a mix of intelligence and action throughout. I've been reading this series since I was a teenager, and I still love it!"
Elite by Mercedes Lackey
TEEN LACKEY
"Post-apocalyptic fantasy about a female monster hunter. Great action and intrigue."
All American Boys by Jason Reynolds & Brendan Keily
TEEN REYNOLDS
"When Rashad stops  by his favorite corner store to buy a bag of chips, he's accused of shoplifting and resisting arrest—and is assaulted by a local cop. Racial tensions divide the high school student's school and community. Two award winning authors write from two perspectives, making this story unforgettable."
Salt to the Sea by Ruta Sepetys
TEEN SEPETYS
"Desperate to flee Germany at the end of World War II, four refugees—each with their own secret—band together for safety and survival. Beautifully researched, this fictionalized account is inspired by a real-life and little known tragedy."
Children's Fiction
The War That Saved My Life by Kimberly Brubaker Bradley
J BRADLEY
"Shows how a little bit of kindness can change your life."
Blindsided by Priscilla Cummings
Available through LinkIn
"I learned what it would feel like to rebuild my life after a losing my sight."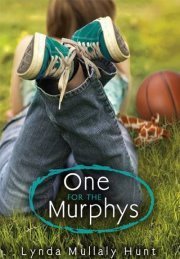 One For the Murphys by Lynda Mullaly Hunt
J HUNT
"Showed how a girl learns to trust someone again."
Hamster Princess series by Ursula Vernon
J VERNON
"Great children's fiction with comic bits, the Hamster Princess series has a spunky, feisty female main character and tons of quirky humor."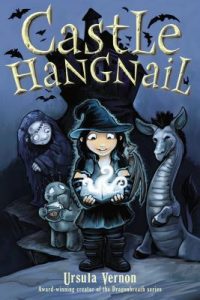 Castle Hangnail by Ursula Vernon
J VERNON
"Great children's fiction with a strong female character and quirky humor. Timeless fantasy about finding the right place for yourself."
Be sure to tell us about the awesome books you read this year as well!  Happy reading!
—Katie, Adult Reference
Save
Save
Save
Save
Save
Save
Save
Save
Save
Save
Save
Save