Sampling Black: A Hip Hop Reading List
On Tuesday, February 13th from 5-7 PM, the Library will be hosting a Black History Month program for young adults called Sampling Black, where participants will discuss multiple hip hop songs and listen to the original samples. You can register for the program online, or you can talk to a library staff member to sign up!
If you're unable to attend the program, or are interested in learning more about the history of hip hop, we've come up with a few book titles that should spark some interest! Click on a title or a book cover to place a hold.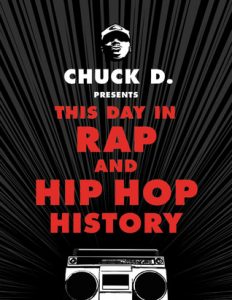 Chuck D. Presents: This Day in Rap and Hip Hop History by Chuck D.
782.4216 CHUCK
"A comprehensive, chronological survey of rap and hip-hop from 1973 to the present is based on the author's long-running show on Rapstation.com and details the most iconic moments and relevant songs from the genre's recorded history."
---
Parental Discretion is Advised: The Rise of N.W.A. and the Dawn of Gangsta Rap by Gerrick D. Kennedy
782.4216 KENNEDY
"Discover the stunning rise, fall, and legacy of N.W.A, one of America's most revered and iconic enduring music groups, who put their stamp on pop culture, black culture, and who changed hip-hop music forever in this comprehensive and authoritative work of music journalism."
---
American Hip Hop: Rappers, DJs, and Hard Beats by Nathan Sacks
J 782.4216 SACKS
"Examines the history of hip-hop and rap, noting its beginning in 1970s New York, how it gained in popularity over the decades, and its rise to global sensation in the twenty-first century."
---
Hip Hop Family Tree, Vol. 1: 1970's-1981 by Ed Piskor
GRAPHIC NOVEL HIP
"Yes yes, y'all! Acclaimed young cartoonist Ed Piskor (Wizzywig) schools you on the old school in this essential, explosively entertaining, encyclopedic cultural chronicle of an American art form that changed the world. The vivd personalities and magnetic performances of early stars like Grandmaster Flash, Afrika Bambaataa, Kurtis Blow, DJ Kool Herc, The Surgarhill Gang, and Funky 4+1 come to life, as do the no-less-charismatic players behind the scenes like Russell Simmons, Sylvia Robinson and Rick Rubin. And graffiti master Fab 5 Freddy meets Debbie Harry, Keith Haring, and Jean-Michel Basquiat as the music and culture begin to penetrate downtown Manhattan and the mainstream at large."
Want more? We have a longer list of books on our website! You can visit the Young Adult Book Lists page and scroll down to Nonfiction, or you can visit the Adult Book Lists page and scroll down to Pop Culture & Entertainment.
Happy reading!
—Katie, Adult Reference