Read Harder: Read a Superhero Comic With a Female Lead
This week's Read Harder challenge is a lot of fun – this time, we're getting the women in on the superhero action and putting together a list of graphic novels featuring female superheroes!  Click on a cover or a title to place a hold.
Batgirl, Vol. 1: Batgirl of Burnside by Cameron Stewart & Brenden Fletcher
GRAPHIC NOVEL BATGIRL
"It's Batgirl as you've never seen her before! Big changes are here for Barbara Gordon as she moves across Gotham City to begin a new chapter in her ongoing fight against crime as Batgirl!"
---
Captain Marvel, Vol. 1: Higher, Faster, Further, More by Kelly Sue DeConnick
GRAPHIC NOVEL CAPTAIN
"Captain Marvel, Earth's Mightiest Hero with an attitude to match, is launching headfirst into an all-new adventure! As Carol Danvers comes to a crossroads with a new life and new romance, she makes a dramatic decision that will alter the course of her life– and the entire Marvel Universe. But as Carol takes on a mission to return an alien girl to her homeworld, she lands in the middle of an uprising against the Galactic Alliance and the Spartax! Investigating the forced resettlement of Rocket Girl's people, Carol discovers she has a history with the man behind the plot. But when the bad guy tries to blackmail [her] and turn the Avengers against her, it's payback time!"
---
Ms. Marvel, Vol. 1: No Normal by G. Willow Wilson & Adrian Alphona
GRAPHIC NOVEL MISS
"Kamala Khan is an ordinary girl from Jersey City — until she's suddenly empowered with extraordinary gifts. But who truly is the new Ms. Marvel? Teenager? Muslim? Inhuman? Find out as she takes the Marvel Universe by storm! When Kamala discovers the dangers of her newfound powers, she unlocks a secret behind them, as well. Is Kamala ready to wield these immense new gifts? Or will the weight of the legacy before her be too much to bear? Kamala has no idea, either. But she's comin' for you, New York!"– from Forbidden Planet web site.
---
Spider-Gwen, Vol. 1: Greater Power by Jason Latour
GRAPHIC NOVEL SPIDER-G
"The Spider-woman of Earth-65 was convinced that the Lizard's threat died in her arms along with Peter Parker. But a new reptilian rampage leaves her with doubts not only about Peter's life, but also his death. While her father, Captain George Stacy, struggles with Gwen's double life, troubles mount as the Osborns make their debut–and Gwen finds herself on S.H.I.E.L.D.'s most-wanted list! Perhaps some wise lessons about power and responsibility that might come in handy when Gwen battles the Goblins! Plus: discover who wields the shield as Earth-65's Captain America joins the fray–but will she be on Gwen's side?"
---
Spider-Woman, Vol. 1: Spider-Verse by Dennis Hopeless
GRAPHIC NOVEL SPIDER-WOMAN
"Nothing can prepare Jessica Drew for the multidimensional insanity of Spider-verse. A war is brewing, and every spider-character in the multiverse is a target. With Silk, the newest spider on the block, at her side, Jessica will need to put all her training to the test to make it out of the Spider-verse alive."
---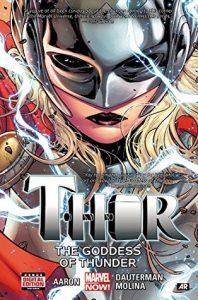 Thor, Vol. 1: Goddess of Thunder by Jason Aaron
GRAPHIC NOVEL THOR
"Mjolnir lies on the moon, unable to be lifted! The secrets of Original Sin have left the God of Thunder unworthy for the first time! But when Frost Giants invade Earth, a new hand will grasp the hammer – and a mysterious woman will take up the mantle of the mighty Thor! Who is this new Goddess of Thunder? Not even Odin knows…but she may be Earth's only hope against the Frost Giants! Get ready for a Thor like you've never seen before, as this all-new heroine takes Midgard by storm! Plus: the Odinson doesn't like that someone else is holding his hammer…and now it's Thor vs. Thor!"
---
The Unbeatable Squirrel Girl, Vol. 1: Squirrel Power by Ryan North
GRAPHIC NOVEL UNBEATAB
"Wolverine, Deadpool, Doctor Doom, Thanos: There's one hero that's beaten them all-and now she's got her own ongoing series! (Not that she's bragging.) That's right, you asked for it, you got it, it's Squirrel Girl! (She's also starting college this semester.) It's the start of a brand-new set of adventures starring the nuttiest and most upbeat super hero in the world!"
Happy reading!
—Katie, Adult Reference
Save