Read Harder: Colonial or Postcolonial Literature
This week's Read Harder challenge is a more complicated one. Before diving into a list of colonial or postcolonial titles, let's look at a brief definition of "colonial" and "postcolonial" literature, as stated in Kathleen Keenan's Book Riot post for this challenge:
"'Colonial literature' is most easily defined as literature written during a time of colonization, usually from the point of view of colonizers. The classic example is Joseph Conrad's Heart of Darkness, a novel about a man employed in the ivory trade who sails up the Congo River and witnesses the terrible effects of colonization and imperialism.
"'Postcolonial literature,' then, refers to literature written in a 'postcolonial' period, generally by members of the colonized community. This literature is a reaction to colonization. Often, postcolonial literature turns established narratives upside down by responding to or reinterpreting popular colonial texts."
The original article goes into more detail about the specifics of each term, and offers a variety of titles that would fulfill this challenge. Here are a few additional books to add to your reading list. Click on a cover or a title to place a hold.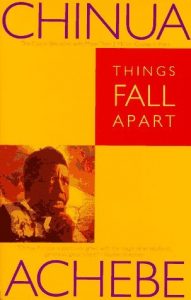 Things Fall Apart by Chinua Achebe
FICTION ACHEBE
"First published in 1959, this novel tells the story of Okonkwo, the leader of an Igbo (Ibo) community who is banished for accidentally killing a clansman. The novel covers the seven years of his exile to his return, providing an inside view of the intrusion of white missionaries and colonial government into tribal Igbo society in the 1890s."
---
A Passage to India by E.M. Forster
FICTION FORSTER
"What really happened in the Marabar caves? Adela Quested arrives in Chandrapore, India, prepared to marry a British magistrate who exemplifies the narrow-minded, anti-Indian prejudices of the imperial bureaucracy. But she soon meets the charming and mercurial Dr. Aziz, who offers to show her the "real" India. An expedition to the famed Marabar caves ends in explosive accusations and a schism that foreshadows the eventual end of British rule in India."
---
The Poisonwood Bible by Barbara Kingsolver
FICTION KINGSOLV
"The Poisonwood Bible is a story told by the wife and four daughters of Nathan Price, a fierce, evangelical Baptist who takes his family and mission to the Belgian Congo in 1959. They carry with them everything they believe they will need from home, but soon find that all of it — from garden seeds to Scripture — is calamitously transformed on African soil. What follows is a suspenseful epic of one family's tragic undoing and remarkable reconstruction over the course of three decades in postcolonial Africa."
---
The God of Small Things by Arundhati Roy
FICTION ROY
"The year is 1969. In the state of Kerala, on the southernmost tip of India, fraternal twins Esthappen and Rahel fashion a childhood for themselves in the shade of the wreck that is their family. Their lonely, lovely mother, Ammu, (who loves by night the man her children love by day), fled an abusive marriage to live with their blind grandmother, Mammachi (who plays Handel on her violin), their beloved uncle Chacko (Rhodes scholar, pickle baron, radical Marxist, bottom-pincher), and their enemy, Baby Kochamma (ex-nun and incumbent grandaunt). When Chacko's English ex-wife brings their daughter for a Christmas visit, the twins learn that things can change in a day, that lives can twist into new, ugly shapes, even cease forever, beside their river…"
---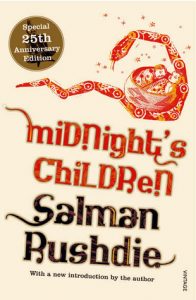 Midnight's Children by Salman Rushdie
FICTION RUSHDIE
"The life of a man born at the moment of India's independence becomes inextricably linked to that of his nation and is a whirlwind of disasters and triumphs that mirror modern India's course, in a twenty-fifth anniversary edition of the Booker Prize-winning novel."
—Katie, Adult Reference