Read Harder 2019: Alternate History
The second Read Harder challenge for this year is pretty straightforward: read an alternate history novel. If you're unfamiliar with the term, "alternate history" means exactly what it sounds like: a book of supposed historical fiction where historical events didn't occur the same way. These books ask questions like "What if Germany had won World War II?" or "What if Kennedy wasn't assassinated?" or "What if time travel were possible and people were able to kidnap literary characters?" (Yes, really!)
If you're interested in these "what-ifs," check out a few of our suggestions down below, or visit our online book lists for even more Read Harder challenge suggestions. Click on a cover or a title to place a hold.
Life After Life by Kate Atkinson
FICTION ATKINSON
"On a cold and snowy night in 1910, Ursula Todd is born to an English banker and his wife. Ursula dies before she can draw her first breath. On that same cold and snowy night, Ursula Todd is born, lets out a lusty wail, and embarks upon a life that will be, to say the least, unusual. For as she grows, she also dies, repeatedly, in a variety of ways, while the young century marches on towards its second cataclysmic world war. Does Ursula's apparently infinite number of lives give her the power to save the world from its inevitable destiny? And if she can — will she?"
---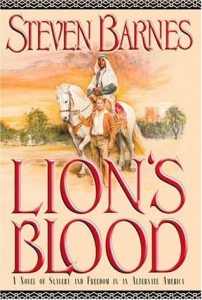 Lion's Blood by Steven Barnes
SCIENCE FICTION BARNES
"In a work of alternate history in which the peoples of Africa colonize the Americas, the fates of two families–one Islamic African aristocrats, the other Druidic Irish slaves–collide as two young men, one of each dynasty, confront their world and each other."
---
The Impeachment of Abraham Lincoln by Stephen L. Carter
FICTION CARTER
"In an alternate history novel, Lincoln escapes assassination by John Wilkes Booth only to face impeachment, and Abigail Canner, a young black woman involved in his defense, helps investigate the murder of the president's counsel."
---
The Eyre Affair by Jasper Fforde
FANTASY FFORDE
"In a world where one can literally get lost in literature, Thursday Next, a Special Operative in literary detection, tries to stop the world's Third Most Wanted criminal from kidnapping characters, including Jane Eyre, from works of literature."
---
11/22/63 by Stephen King
MYSTERY KING
"It begins with Jake Epping, a thirty-five-year-old English teacher in Lisbon Falls, Maine, who makes extra money teaching GED classes. his friend Al, who owns the local diner, divulges a secret: his storeroom is a portal to the past, a particular day in 1958. And Al enlists Jake to take over the mission that has become his obsession—to prevent the Kennedy assassination."
Happy reading!
—Katie, Adult Reference