Read Harder 2018: True Crime
The second Read Harder challenge is an easy one for a lot of people to get behind: true crime! Whether it's historical crime, mafia stories, serial killers, or true courtroom cases, true crime is one of the most popular nonfiction genres at the library. There are a ton of options to choose from, but here are a few to get you started. You can also visit our collection of online book lists and click on the Read Harder 2018 tab on the left side for expanded lists of reading suggestions for each challenge. Click on a cover or a title to place a hold!
Missoula: Rape and the Justice System in a College Town by Jon Krakauer
362.883 KRAKAUER
"In Missoula, Krakauer chronicles the searing experiences of several women in Missoula — the nights when they were raped; their fear and self-doubt in the aftermath; the way they were treated by the police, prosecutors, defense attorneys; the public vilification and private anguish; their bravery in pushing forward and what it cost them."
---
The Good Nurse: A True Story of Medicine, Madness, and Murder by Charles Graeber
364.1523 GRAEBER
"After his December 2003 arrest, registered nurse Charlie Cullen was quickly dubbed "The Angel of Death" by the media. But Cullen was no mercy killer, nor was he a simple monster. Implicated in the deaths of as many as 300 patients, he was also perhaps the most prolific serial killer in American history. Cullen's murderous career in the world's most trusted profession spanned sixteen years and nine hospitals across New Jersey and Pennsylvania. When, in March of 2006, Charles Cullen was marched from his final sentencing in an Allentown, Pennsylvania, courthouse into a waiting police van, it seemed certain that the chilling secrets of his life, career, and capture would disappear with him. Now, in a riveting piece of investigative journalism nearly ten years in the making, journalist Charles Graeber presents the whole story for the first time."
---
The Midnight Assassin: Panic, Scandal, and the Hunt for America's First Serial Killer by Skip Hollandsworth
364.1523 HOLLANDS
"In December 1884, Austin, Texas was terrorized by the Midnight Assassin, who crisscrossed the entire city, striking on moonlit nights, using axes, knives, and long steel rods to rip apart women from every race and class. Before it was all over, at least a dozen men would be arrested in connection with the murders, and the crimes would expose what a newspaper described as "the most extensive and profound scandal ever known in Austin." And yes, when Jack the Ripper began his attacks in 1888, London police investigators did wonder if the killer from Austin had crossed the ocean to terrorize their own city. With vivid historical detail and novelistic flair,Texas Monthly journalist Skip Hollandsworth brings this terrifying saga to life.
---
The Fact of a Body: A Murder and a Memoir by Alexandra Marzano-Lesnevich
364.1523 MARZANO
"Before Alexandria Marzano-Lesnevich begins a summer job at a law firm in Louisiana, working to help defend men accused of murder, she thinks her position is clear. The child of two lawyers, she is staunchly anti-death penalty. But the moment convicted murderer Ricky Langley's face flashes on the screen as she reviews old tapes — the moment she hears him speak of his crimes — she is overcome with the feeling of wanting him to die. Shocked by her reaction, she digs deeper and deeper into the case. Despite their vastly different circumstances, something in his story is unsettlingly, uncannily familiar. As Alexandria pores over the facts of the murder, she finds herself thrust into the complicated narrative of Ricky's childhood, and by examining his case, is forced to face her own story, unearth long-buried family secrets, and reckon with a past that colors her view of Ricky's crime."
---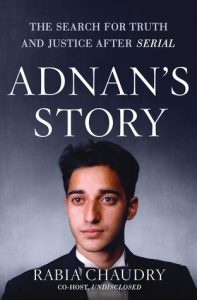 Adnan's Story: The Search for Truth and Justice after Serial by Rabia Chaudry
B SYE
"In early 2000, Adnan Syed was convicted and sentenced to life plus thirty years for the murder of his ex-girlfriend Hae Min Lee, a high school senior in Baltimore, Maryland. Syed has maintained his innocence, and Rabia Chaudry, a family friend, has always believed him. By 2013, after almost all appeals had been exhausted, Rabia contacted Sarah Koenig, a producer at This American Life, in hopes of finding a journalist who could shed light on Adnan's story. In 2014, Koenig's investigation turned into Serial, a Peabody Award-winning podcast with more than 500 million international listeners. But Serial did not tell the whole story. In this compelling narrative, Rabia Chaudry presents new key evidence that she maintains dismantles the State's case."
Happy reading!
—Katie, Adult Reference
SaveSave