Read Harder 2018: A Book That Can Be Read in One Sitting
For our second Read Harder post today, we've got a list of books that can be read in one sitting. Of course, this is a more subjective challenge, since everyone reads at different speeds and with different attention levels, and what may be an engrossing and page-turning book for one reader may not be the same for another. With all that in mind, we've pulled together a few books that are a) on the short side when it comes to page length and/or b) so interesting that you won't want to put the book down. I myself have read a couple of these books in a single sitting, so I know that it's not entirely out of the realm of possibility! Click on a cover or a title to place a hold.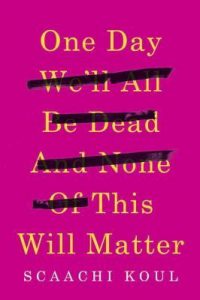 One Day We'll All Be Dead and None of This Will Matter by Scaachi Koul
B KOU
"Scaachi Koul deploys her razor sharp humor to share all the fears, outrages, and mortifying moments of her life. She learned from an early age what made her miserable, and for Scaachi anything can be cause for despair. Alongside these personal stories are pointed observations about life as a woman of color, where every aspect of her appearance is open for critique, derision, or outright scorn. Where strict gender rules bind in both Western and Indian cultures, leaving little room for a woman not solely focused on marriage and children to have a career (and a life) for herself."
---
American Housewife: Stories by Helen Ellis
FICTION ELLIS
"Meet the women of American Housewife: they wear lipstick, pearls, and sunscreen, even when it's cloudy. They casserole. They pinwheel. They pump the salad spinner like it's a CPR dummy. And then they kill a party crasher, carefully stepping around the body to pull cookies out of the oven. These twelve irresistible stories take us from a haunted prewar Manhattan apartment building to the set of a rigged reality television show, from the unique initiation ritual of a book club to the getaway car of a pageant princess on the lam, from the gallery opening of a tinfoil artist to the fitting room of a legendary lingerie shop."
---
Bird Box by Josh Malerman
HORROR MALERMAN
"In Bird Box, brilliantly imaginative debut author Josh Malerman captures an apocalyptic near-future world, where a mother and her two small children must make their way down a river, blindfolded. One wrong choice and they will die. And something is following them — but is it man, animal, or monster?"
---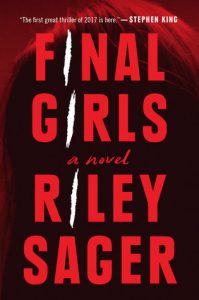 Final Girls by Riley Sager
MYSTERY SAGER
"Emerging as the lone survivor of a serial killer's massacre a decade earlier, Quincy Carpenter struggles to ignore traumatic memories and move on as one of a group of other survivors who look to her for answers when one of them is found dead in a suspicious suicide."
---
This is Where it Ends by Marieke Nijkamp
YA FICTION NIJKAMP
"10:00 AM – The principal of Opportunity High School finishes her speech welcoming everyone to a new semester.
10:02 AM – Everyone gets up to leave for class.
10:03 AM – The doors won't open.
10:05 AM – A boy enters the auditorium and starts shooting.
The entire story is told over the course of 54 minutes from four different perspectives as the students fight to survive. Because everyone has a reason to fear the boy with the gun."
Happy reading!
-Katie, Adult Reference