Read Harder 2017: Read a LGBTQ+ Romance Novel
We're back with the last set of Read Harder challenges for 2017!  This week's challenge is to read a LGBTQ+ romance novel, which can be a little hard to find from traditional publishers.  But we've pulled together a few suggestions from our collection to help you along, along with links at the end of the post to help you discover even more titles.  Click on a cover or a title to place a hold, and if you find a book not owned by our library, click here to make a purchase suggestion for the library's collection!
The Magpie Lord by K.J. Charles
FANTASY CHARLES
"A lord in danger. A magician in turmoil. A snowball in hell. Exiled to China for twenty years, Lucien Vaudrey never planned to return to England. But with the mysterious deaths of his father and brother, it seems the new Lord Crane has inherited an earldom. He's also inherited his family's enemies. He needs magical assistance, fast. He doesn't expect it to turn up angry. Magician Stephen Day has good reason to hate Crane's family. Unfortunately, it's his job to deal with supernatural threats. Besides, the earl is unlike any aristocrat he's ever met, with the tattoos, the attitude…and the way Crane seems determined to get him into bed. That's definitely unusual. Soon Stephen is falling hard for the worst possible man, at the worst possible time. But Crane's dangerous appeal isn't the only thing rendering Stephen powerless. Evil pervades the house, a web of plots is closing round Crane, and if Stephen can't find a way through it-they're both going to die."
---
All the Wrong Places by Ann Gallagher
ROMANCE GALLAGHE
"Three cheating girlfriends in a row have given skateboarder Brennan Cross the same excuse: he wasn't meeting their needs. Desperate and humiliated, he goes to the professionals at the local sex shop for advice. Zafir Hamady, a sales clerk at Red Hot Bluewater, has an unusual theory: he doesn't think Brennan is a bad lover. In fact, he doesn't think Brennan is heterosexual. Or sexual at all, for that matter. He also can't stop thinking about Brennan. But even if he's right and Brennan really is asexual, that doesn't mean Zafir has a chance. Brennan's never dated a man, and Zafir's never met anyone who's game for a Muslim single father with a smart mouth and a GED. Brennan's always thought of himself as straight. But when sex is explicitly out of the mix, he finds himself drawn to Zafir for the qualities and interests they share. And Zafir can't help enjoying Brennan's company and the growing bond between Brennan and his son. They work well together, but with so many issues between them, doubts creep in, and Brennan's struggle with his identity could push away the one person he didn't know he could love."
---
Been Here All Along by Sandy Hall
YA FICTION HALL
"Gideon always has a plan. His plans include running for class president, leading the yearbook committee, and having his choice of colleges. They do not include falling head over heels for his best friend and next-door neighbor, Kyle. It's a distraction. It's pointless, as Kyle is already dating the gorgeous and popular head cheerleader, Ruby. And Gideon doesn't know what to do. Kyle finally feels like he has a handle on life. He has a wonderful girlfriend, a best friend willing to debate the finer points of Lord of the Rings, and social acceptance as captain of the basketball team. Then both Ruby and Gideon start acting really weird, just as his spot on the team is threatened, and Kyle can't quite figure out what he did wrong…"
---
Boy Meets Boy by David Levithan
YA FICTION LEVITHAN
"When Paul falls hard for Noah, he thinks he has found his one true love, but when Noah walks out of his life, Paul has to find a way to get him back and make everything right once more."
---
10 Things I Can See From Here by Carrie Mac
YA FICTION MAC
"Maeve, a sufferer of severe anxiety, moves in with her recovering alcoholic father and her very pregnant stepmother and falls for a girl who is not afraid of anything."
---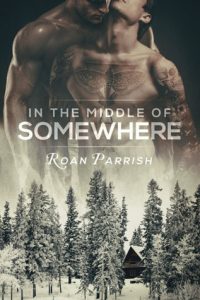 In the Middle of Somewhere by Roan Parrish
ROMANCE PARRISH
"Daniel has never fit in: not at home in Philadelphia or in school where his Ivy League classmates looked down on him. His new job is at a small college in northern Michigan, but he's a city boy and small town life doesn't suit him either. Then he meets Rex Dale, a shy furniture maker, and their chemistry is explosive. Can they break down the walls built by a lifetime of inability to trust others?"
---
If I Was Your Girl by Meredith Russo
YA FICTION RUSSO
"Amanda Hardy only wants to fit in at her new school, but she is keeping a big secret, so when she falls for Grant, guarded Amanda finds herself yearning to share with him everything about herself, including her previous life as Andrew."
And try these links to find additional titles:
In Search of Bi Women in Earth Based Cis-Het Romances
Romance Beyond Gay and Lesbian in LGBTQ+
5 Authors to Get You Started in M/M Romance
Happy reading!
—Katie, Adult Reference
---
The Soldier's Scoundrel by Cat Sebastian
ROMANCE SEBASTIA
"A scoundrel who lives in the shadows. Jack Turner grew up in the darkness of London's slums, born into a life of crime and willing to do anything to keep his belly full and his siblings safe. Now he uses the tricks and schemes of the underworld to help those who need the kind of assistance only a scoundrel can provide. His distrust of the nobility runs deep and his services do not extend to the gorgeous high-born soldier who personifies everything Jack will never be. A soldier untarnished by vice. After the chaos of war, Oliver Rivington craves the safe predictability of a gentleman's life–one that doesn't include sparring with a ne'er-do-well who flouts the law at every turn. But Jack tempts Oliver like no other man has before. Soon his yearning for the unapologetic criminal is only matched by Jack's pleasure in watching his genteel polish crumble every time they're together."