Read Harder 2017: Read a Book About, or Written By, Immigrants
It's Monday, and we're back with the 5th Read Harder Challenge for 2017: Read a book written by an immigrant, or with a central immigrant theme.  As always, click on a cover or a title to place a hold!
Americanah by Chimamanda Ngozi Adichie

FICTION ADICHIE
"As teenagers in a Lagos secondary school, Ifemelu and Obinze fall in love. Their Nigeria is under military dictatorship, and people are leaving the country if they can. Ifemelu–beautiful, self-assured–departs for America to study. She suffers defeats and triumphs, finds and loses relationships and friendships, all the while feeling the weight of something she never thought of back home: race. Obinze–the quiet, thoughtful son of a professor–had hoped to join her, but post-9/11 America will not let him in, and he plunges into a dangerous, undocumented life in London. Years later, Obinze is a wealthy man in a newly democratic Nigeria, while Ifemelu has achieved success as a writer of an eye-opening blog about race in America. But when Ifemelu returns to Nigeria, and she and Obinze reignite their shared passion–for their homeland and for each other–they will face the toughest decisions of their lives." — Provided by publisher.
---
How to Be An American Housewife by Margaret Dilloway

FICTION DILLOWAY
"The story of Shoko, a Japanese woman who married an American GI, and her grown daughter, Sue, a divorced mother whose life as an American housewife hasn't been what she'd expected. When illness prevents Shoko from traveling to Japan, she asks Sue to go in her place. The trip reveals family secrets that change their lives in dramatic and unforeseen ways." — Provided by publisher.
---
In the Country We Love: My Family Divided by Diane Guerrero
B GUE
"Diane Guerrero, the television actress from the megahit Orange is the New Black and Jane the Virgin, was just fourteen years old on the day her parents and brother were arrested and deported to Colombia while she was at school. Born in the U.S., Guerrero was able to remain in the country and continue her education, depending on the kindness of family friends who took her in and helped her build a life and a successful acting career for herself, without the support system of her family. There are over 11 million undocumented immigrants living in the US, many of whom have citizen children, whose lives here are just as precarious, and whose stories haven't been told. This memoir is a tale of personal triumph that also casts a much-needed light on the fears that haunt the daily existence of families likes the author's and on a system that fails them over and over." — Provided by publisher.
---
The Book of Unknown Americans by Cristina Henriquez

FICTION HENRIQUE
"Arturo and Alma Rivera have lived their whole lives in Mexico. One day, their beautiful fifteen-year-old daughter, Maribel, sustains a terrible injury, one that casts doubt on whether she'll ever be the same. And so, leaving all they have behind, the Riveras come to America with a single dream: that in this country of great opportunity and resources, Maribel can get better. When Mayor Toro, whose family is from Panama, sees Maribel in a Dollar Tree store, it is love at first sight. It's also the beginning of a friendship between the Rivera and Toro families, whose web of guilt and love and responsibility is at this novels core"–Provided by publisher.
---
Infidel by Ayaan Hirsi Ali
B HIR
"Ultimately a celebration of triumph over adversity, Hirsi Ali's story tells how a bright little girl evolved out of dutiful obedience to become an outspoken, pioneering freedom fighter. As Western governments struggle to balance democratic ideals with religious pressures, no story could be timelier or more significant.– Provided by publisher.
---
The Namesake by Jhumpa Lahiri
LARGE PRINT FICTION LAHIRI
"The Namesake takes the Ganguli family from their tradition-bound life in Calcutta through their fraught transformation into Americans. On the heels of their arranged marriage, Ashoke and Ashima Ganguli settle together in Cambridge, Massacheusetts. An engineer by training, Ashoke adapts far less warily than his wife, who resists all things American and pines for her family. When their son is born, the task of naming him betrays the vexed results of bringing old ways to the new world. Named for a Russian writer by his Indian parents in memory of a catastrophe years before, Gogol Ganguli knows only that he suffers the burden of his heritage as well as his odd, antic name." — Provided by publisher.
---
Angela's Ashes by Frank McCourt

929.2 MCC
"When I look back on my childhood I wonder how I managed to survive at all. It was, of course, a miserable childhood: the happy childhood is hardly worth your while. Worse than the ordinary miserable childhood is the miserable Irish childhood, and worse yet is the miserable Irish Catholic childhood."
So begins the luminous memoir of Frank McCourt, born in Depression-era Brooklyn to recent Irish immigrants and raised in the slums of Limerick, Ireland. Frank's mother, Angela, has no money to feed the children since Frank's father, Malachy, rarely works, and when he does he drinks his wages. Yet Malachy — exasperating, irresponsible and beguiling– does nurture in Frank an appetite for the one thing he can provide: a story. Wearing rags for diapers, begging a pig's head for Christmas dinner and gathering coal from the roadside to light a fire, Frank endures poverty, near-starvation and the casual cruelty of relatives and neighbors–yet lives to tell his tale with eloquence, exuberance and remarkable forgiveness." — Provided by publisher.
---
The Mortifications by Derek Palacio

FICTION PALACIO
"In 1980, a rural Cuban family is torn apart during the Mariel Boat-lift. Uxbal Encarnación–father, husband, political insurgent–refuses to leave behind the revolutionary ideals and lush tomato farms of his sun-soaked homeland. His wife Soledad takes young Isabel and Ulises hostage and flees with them to America, leaving behind Uxbal for the promise of a better life. But instead of settling with fellow Cuban immigrants in Miami's familiar heat, Soledad pushes further north into the stark, wintry landscape of Hartford, Connecticut. There, in the long shadow of their estranged patriarch, now just a distant memory, the exiled mother and her children begin a process of growth and transformation." — Provided by publisher.
---
When I Was Puerto Rican by Esmeralda Santiago
B SAN
"Magic, sexual tension, high comedy, and intense drama move through an enchanted yet harsh autobiography, in the story of a young girl who leaves rural Puerto Rico for New York's tenements and a chance for success." — Provided by publisher.
---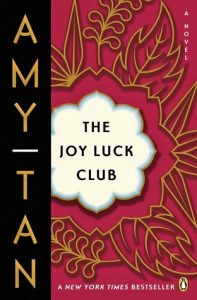 The Joy Luck Club by Amy Tan
FICTION TAN
"In 1949, four Chinese women–drawn together by the shadow of their past–begin meeting in San Francisco to play mah jong, invest in stocks and "say" stories. They call their gathering the Joy Luck Club–and forge a relationship that binds them for more than three decades." — Provided by publisher.
Happy reading!
—Katie, Adult Reference
Save