Read Harder 2017: Read a Book Published Between 1900-1950
It's Week 7 and the 7th challenge for Read Harder 2017: Read a book published between 1900 and 1950.  As always, click on a cover or a title to place a hold!
The Wonderful Wizard of Oz by L. Frank Baum
J BAUM
"After a cyclone transports her to the land of Oz, Dorothy must seek out the great wizard in order to return to Kansas." — Provided by publisher.
---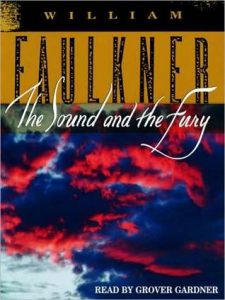 The Sound and the Fury by William Faulkner
CD FIC FAULKNER
"The story of the tragic Caddy Compson, as seen through the eyes of her three brothers–the idiot Benjy, the neurotic Quentin, and the monstrous Jason." — Provided by publisher.
---
The Great Gatsby by F. Scott Fitzgerald
FICTION FITZGERA
"Jay Gatsby had once loved beautiful, spoiled Daisy Buchanan, then lost her to a rich boy. Now, mysteriously wealthy, he is ready to risk everything to woo her back." — Provided by publisher.
---
The Diary of a Young Girl by Anne Frank
JB FRA
"Anne Frank and her family, fleeing the horrors of Nazi occupation, hid in the back of an Amsterdam warehouse for two years. She was thirteen when she went into the Secret Annex with her family. Her diary remains a beloved and deeply admired testament to the indestructible nature of the human spirit." — Provided by publisher.
---
Riders of the Purple Sage by Zane Grey
FICTION GREY
"In the remote border country of South Utah, a man is about to be whipped by the Mormons in order to pressure Jane Withersteen into marrying against her will. The punishment is halted by the arrival of the hero, Lassiter, a gunman in black leather, who routs the persecutors and then gradually recounts his own history." — Provided by publisher.
---
 Their Eyes Were Watching God by Zora Neale Hurston
FICTION HURSTON
"A novel about black Americans in Florida that centers on the life of Janie and her three marriages." — Provided by publisher.
---
Cry the Beloved Country by Alan Paton
FICTION PATON
"Cry, the Beloved Country is a beautifully told and profoundly compassionate story of the Zulu pastor Stephen Kumalo and his son Absalom, set in the troubled and changing South Africa of the 1940s." — Provided by publisher.
---
The Jungle by Upton Sinclair
CD FIC SINCLAIR
"The classic protest novel that exposed harsh working conditions and unsanitary practices in the meatpacking industry" — Provided by publisher.
---
The Grapes of Wrath by John Steinbeck
FICTION STEINBEC
"Depicts the hardships and suffering endured by the Joads as they journey from Oklahoma to California during the Depression." — Provided by publisher.
---
Native Son by Richard Wright
FICTION WRIGHT
"Right from the start, Bigger Thomas had been headed for jail. It could have been for assault or petty larceny; by chance, it was for murder and rape. Native Son tells the story of this young black man caught in a downward spiral after he kills a young white woman in a brief moment of panic." — Provided by publisher.
Happy reading!
—Katie, Adult Reference
Save
Save