Read Harder 2017: Read an All-Ages Comic
It's the 6th week and the 6th challenge for Read Harder 2017: Read an all-ages comic.  As always, click on a cover or a title to place a hold!
Adventure Time by Ryan North
GRAPHIC NOVEL ADVENTUR
"When The Lich breaks free of his magical prison and wants to destroy all of the Land of Ooo, Jake the dog, Finn the human, Princess Bubblegum, and Marceline the Vampire Queen must right the kingdoms once again." — Provided by publisher.
---
Bone by Jeff Smith
GRAPHIC NOVEL BONE
"The three Bone cousins, Fone Bone, Phoney Bone, and Smiley Bone, are separated and lost in a vast, uncharted desert. One by one, they find their way into a deep, forested valley filled with wonderful and terrifying creatures. Eventually, the cousins are reunited at a farmstead run by tough Gran'ma Ben and her spirited granddaughter Thorn. But little do the Bones know, there are dark forces conspiring against them, and their adventures are only just beginning!" — Provided by publisher.
---
Something Under the Bed is Drooling: A Calvin and Hobbes Collection by Bill Watterson
J GN CALVIN
"Calvin is a rambunctious six-year-old whose manic antics threaten world peace. Hobbes is his stuffed tiger who comes alive when adults aren"t around. The saga of their daily exploits won cartoonist Bill Watterson the coveted Reuben Award for "Outstanding Cartoonist of the Year." Something Under the Bed Is Drooling is a jewel." — Provided by publisher.
---
Cleopatra in Space by Mike Maihack
J GN CLEOPATR
"When a young Cleopatra finds a mysterious tablet that zaps her to the far, REALLY far future, she learns of an ancient prophecy that says she is destined to save the galaxy from the tyrannical rule of the evil Xaius Octavian." — Provided by publisher.
---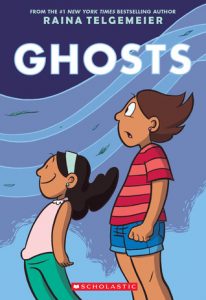 Ghosts by Raina Telgemeier
J GN GHOSTS
"Catrina and her family have moved to the coast of Northern California for the sake of her little sister, Maya, who has cystic fibrosis–and Cat is even less happy about the move when she is told that her new town is inhabited by ghosts, and Maya sets her heart on meeting one." — Provided by publisher.
---
Lumberjanes by Noelle Stevenson
J GN LUMBERJA
"Friendship to the max! At Miss Quinzella Thiskwin Penniquiqul Thistle Crumpet's camp for hardcore lady-types, things are not what they seem. Three-eyed foxes. Secret caves. Anagrams. Luckily, Jo, April, Mal, Molly and Ripley are five rad, butt-kicking best pals determined to have an awesome summer together– and they're not gonna let a magical quest or an array of supernatural critters get in their way!" — Provided by publisher.
---
The Nameless City by Faith Erin Hicks
J GN NAMELESS
"Every time it is invaded the City gets a new name, but to the natives in is the Nameless City, and they survive by not letting themselves get involved–but now the fate of the City rests in the hands of Rat, a native, and Kaidu, one of the Dao, the latest occupiers, and the two must somehow work together if the City is to survive." — Provided by publisher.
---
Nimona by Noelle Stevenson
J GN NIMONA
"Nimona is an impulsive young shapeshifter with a knack for villainy. Lord Ballister Blackheart is a villain with a vendetta. As sidekick and supervillain, Nimona and Lord Blackheart are about to wreak some serious havoc. Their mission: prove to the kingdom that Sir Ambrosius Goldenloin and his buddies at the Institution of Law Enforcement and Heroics aren't the heroes everyone thinks they are. But as small acts of mischief escalate into a vicious battle, Lord Blackheart realizes that Nimona's powers are as murky and mysterious as her past. And her unpredictable wild side might be more dangerous than he is willing to admit." — Provided by publisher.
---
Princeless by Jeremy Whitley
J GN PRINCELE
"Princess Adrienne is tired of being locked in a tower, waiting around to be rescued by a prince. She escapes from the tower with the help of her guardian dragon, Sparky, and with her plucky sidekick Bedelia, Adrienne sets off on a quest to rescue her sisters who are suffering the same fate." — Provided by publisher.
---
Roller Girl by Victoria Jamieson
J GN ROLLER
"A graphic novel adventure about a girl who discovers roller derby right as she and her best friend are growing apart" — Provided by publisher.
Happy reading!
—Katie, Adult Reference
Save