Read Harder 2017: All Point of View Characters are People of Color
And here we are, at the end of the Read Harder challenges for 2017!  (If you want to view all of the previous Read Harder blog posts, you can click here to browse through.)  This last challenge is to read a book in which all point of view characters are people of color. Click on a cover or a title to place a hold!
Homegoing by Yaa Gyasi
FICTION GYASI
"Two half sisters, Effia and Esi, unknown to each other, are born into two different tribal villages in 18th century Ghana. Effia will be married off to an English colonial, and will live in comfort in the sprawling, palatial rooms of Cape Coast Castle, raising half-caste children who will be sent abroad to be educated in England before returning to the Gold Coast to serve as administrators of the Empire. Her sister, Esi, will be imprisoned beneath Effia in the Castle's women's dungeon, and then shipped off on a boat bound for America, where she will be sold into slavery. Stretching from the tribal wars of Ghana to slavery and Civil War in America, from the coal mines in the north to the Great Migration to the streets of 20th century Harlem, Yaa Gyasi's has written a modern masterpiece, a novel that moves through histories and geographies and–with outstanding economy and force–captures the troubled spirit of our own nation."
---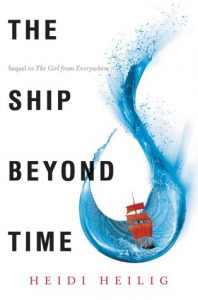 The Ship Beyond Time by Heidi Heilig
TEEN HEILIG
"Nix has spent her whole life journeying to places both real and imagined aboard her time-traveling father's ship. And now it's finally time for her to take the helm. Her future lies bright before her—until she learns that she is destined to lose the one she loves."
---
Crazy Rich Asians by Kevin Kwan
FICTION KWAN
"When New Yorker Rachel Chu agrees to spend the summer in Singapore with her boyfriend, Nicholas Young, she envisions a humble family home and quality time with the man she hopes to marry. But Nick has failed to give his girlfriend a few key details. One, that his childhood home looks like a palace; two, that he grew up riding in more private planes than cars; and three, that he just happens to be the country's most eligible bachelor. On Nick's arm, Rachel may as well have a target on her back the second she steps off the plane, and soon, her relaxed vacation turns into an obstacle course of old money, new money, nosy relatives, and scheming social climbers."
---
Pachinko by Min Jin Lee
FICTION LEE
"A new tour de force from the bestselling author of Free Food for Millionaires, for readers of The Kite Runner and Cutting for Stone. PACHINKO follows one Korean family through the generations, beginning in early 1900s Korea with Sunja, the prized daughter of a poor yet proud family, whose unplanned pregnancy threatens to shame them all. Deserted by her lover, Sunja is saved when a young tubercular minister offers to marry and bring her to Japan. So begins a sweeping saga of an exceptional family in exile from its homeland and caught in the indifferent arc of history."
---
When Dimple Met Rishi by Sandhya Menon
YA FICTION MENON
"When Dimple Shah and Rishi Patel meet at a Stanford University summer program, Dimple is avoiding her parents' obsession with "marriage prospects" but Rishi hopes to woo her into accepting arranged marriage with him."
Happy reading!
— Katie, Adult Reference