Read Harder 2017: Poetry in Translation (No Love Poems Allowed!)
This week's Read Harder challenge is another doozy: Read a collection of poetry in translation, and it has to be about a subject other than love! To help you on your way, we dug deep into the catalog and found a few titles for you to try. Click on a cover to place a hold!
The Prophet by Kahlil Gibran
811.54 GIBRAN
"The Prophet contains powerful words of wisdom on such essential subjects as marriage, children, friendship, work, and pleasure–words that readers from around the world have found inspirational and life-changing. A poet, artist, and mystic, Gibran was born to a poor Christian family in Lebanon and emigrated to the United States as an adolescent, where he began studying art. The twenty-eight poetic essays collected in The Prophet are illustrated with twelve of his full-page drawings. Perhaps no other twentieth-century writer has touched the hearts and minds of so remarkably varied and widespread a readership."
---
The Defiant Muse: French Feminist Poems From the Middle Ages to the Present: A Bilingual Anthology by Domna C. Stanton (ed.)
841.0099 FRE
"Each bilingual volume in The Defiant Muse series includes 60 to 80 poems by both well-known and rediscovered poets, selected on the basis of their individual merit and as illustrations of the evolution of feminist thought and feeling. Reflecting their own cultural milieus as well as enduring themes, the poets write of love and friendship, revolution and peace, religion, nature, isolation, work, and family. The Dutch, French, German, and Italian volumes represent their respective countries; the Hispanic volume includes poems from the many Spanish-speaking nations; and the Hebrew volume encompasses writing in Hebrew from around the world. The poems are presented in their original languages alongside English translations."
---
Then Come Back: The Lost Neruda by Pablo Neruda; transl. by Forrest Gander
861.62 NERUDA
"Pablo Neruda's lost poems-recently discovered in his archive to the delight of readers and scholars-comprise this remarkable and essential volume. Originally composed on napkins, playbills, receipts, and notebooks, Neruda's lost poems are full of eros and heartache, complex wordplay and deep wonder. Presented with the Spanish text, full-color reproductions of handwritten poems, and dynamic English translations, Then Come Back: The Lost Neruda simultaneously completes and advances the oeuvre of the world's most beloved poet."
---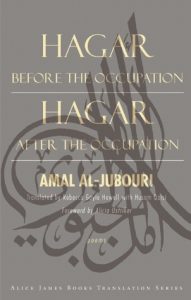 Hagar Before the Occupation, Hagar After the Occupation by Amal al-Jubouri; transl. by Rebecca Gayle Howell, with Husam Qasi
892.717 JUBURI
"This translation of Iraqi author Amal al-Jubouri contextualizes America's occupation of Iraq through the Qur'an's story of Hagar. Complementary pairs of poems portray life before and after the war. This work simultaneously mirrors Hagar's desperate running between Safa and Marwah, as we pace frantically between pre- and post-occupation Iraq–the poet begging in vain for poetry not to abandon her people."
---
Simple Chaos by Yukio Tsuji; transl. by William I. Elliot, Katsumasa Nishihara, & Shuntaro Tanikawa
EBOOK
"Yukio Tsuji (1939-2000), born in Asakusa, Tokyo, graduated from the French Department of Meiji University and took the pen name 'kamotsusen' (cargo ship) as a haiku poet. His poems have often been classified as 'light verse', light-hearted in essence; some people inevitably criticized him for his lack of seriousness and of a grand style. Since his poems are structurally beautiful, their architectural forms are, needless to say, the product of much trial and error as he struggled for 'perfect' compositions. In the English-speaking world Tsuji's poems, even though few in number, were included in the audio CD called Masters of Modern Japanese Poetry (Watch Word) and on the website Poetry International Web (Japan)."
Happy reading!
—Katie, Adult Reference