Read Harder 2017: Frequently Banned or Challenged Book
This week's Read Harder challenge is sadly, pretty easy to do.  Even in 2017, hundreds of books are banned or challenged in schools and libraries each year, so it's good to familiarize yourself with the books that other people have found overly controversial.  Take a look at some of these titles:
The Absolutely True Diary of a Part-Time Indian by Sherman Alexie
TEEN ALEXIE
"Budding cartoonist Junior leaves his troubled school on the Spokane Indian Reservation to attend an all-white farm town school where the only other Indian is the school mascot."
---
I Know Why the Caged Bird Sings by Maya Angelou
B ANG
"A phenomenal #1 bestseller that has appeared on the New York Times bestseller list for nearly three years, this memoir traces Maya Angelou's childhood in a small, rural community during the 1930s. Filled with images and recollections that point to the dignity and courage of black men and women, Angelou paints a sometimes disquieting, but always affecting picture of the people-and the times-that touched her life."
---
The Handmaid's Tale by Margaret Atwood
FICTION ATWOOD
"Offred is a Handmaid in the Republic of Gilead, serving in the household of the enigmatic Commander and his bitter wife. She may go out once a day to markets whose signs are now pictures because women are not allowed to read. She must pray that the Commander makes her pregnant, for in a time of declining birthrates her value lies in her fertility, and failure means exile to the dangerously polluted Colonies. Offred can remember a time when she lived with her husband and daughter and had a job, before she lost even her own name. Now she navigates the intimate secrets of those who control her every move, risking her life in breaking the rules."
---
Fahrenheit 451 by Ray Bradbury
SCIENCE FICTION BRADBURY
"A totalitarian regime has ordered all books to be destroyed, but one of the book burners suddenly realizes their merit."
---
Nickel and Dimed: On Not Getting By in America by Barbara Ehrenreich
305.569 EHR
"Millions of Americans work full time, year round, for poverty-level wages. In 1998, Barbara Ehrenreich decided to join them. She was inspired in part by the rhetoric surrounding welfare reform, which promised that a job — any job — can be the ticket to a better life. But how does anyone survive, let alone prosper, on $6 an hour? To find out, Ehrenreich left her home, took the cheapest lodgings she could find, and accepted whatever jobs she was offered. Moving from Florida to Maine to Minnesota, she worked as a waitress, a hotel maid, a cleaning woman, a nursing-home aide, and a Wal-Mart sales clerk. She lived in trailer parks and crumbling residential motels. Very quickly, she discovered that no job is truly "unskilled," that even the lowliest occupations require exhausting mental and muscular effort. She also learned that one job is not enough; you need at least two if you int to live indoors. Nickel and Dimed reveals low-rent America in all its tenacity, anxiety, and surprising generosity — a land of Big Boxes, fast food, and a thousand desperate stratagems for survival."
---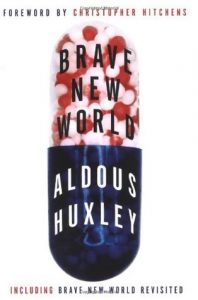 Brave New World by Aldous Huxley
SCIENCE FICTION HUXLEY
"Aldous Huxley's profoundly important classic of world literature, Brave New World is a searching vision of an unequal, technologically-advanced future where humans are genetically bred, socially indoctrinated, and pharmaceutically anesthetized to passively uphold an authoritarian ruling order–all at the cost of our freedom, full humanity, and perhaps also our souls."
---
The Bluest Eye by Toni Morrison
FICTION MORRISON
"The story of eleven-year-old Pecola Breedloe, a black girl who prays for her eyes to turn blue, so that she will be beautiful, so that people will look at her , so that her world will be different."
---
Graphic Novels
Bone, Vol. 1: Out From Boneville by Jeff Smith
GRAPHIC NOVEL BONE
"Fone Bone, Phoney Bone, and Smiley Bone are run out of their home, Boneville, and become separated in the wilds, but better fortune begins when the three cousins reunite at a farmstead in a deep forested valley, where Fone meets a young girl named Thorn. In Out From Boneville, volume 1 of this 9-book epic, the three Bone cousins, Fone Bone, Phoney Bone, and Smiley Bone, are separated and lost in a vast, uncharted desert. One by one, they find their way into a deep, forested valley filled with wonderful and terrifying creatures. Eventually, the cousins are reunited at a farmstead run by tough Gran'ma Ben and her spirited granddaughter Thorn. But little do the Bones know, there are dark forces conspiring against them, and their adventures are only just beginning!"
---
Fun Home: A Family Tragicomic by Alison Bechdel
GRAPHIC NOVEL FUN
"A fresh and brilliantly told memoir from a cult favorite comic artist, marked by gothic twists, a family funeral home, sexual angst, and great books."
---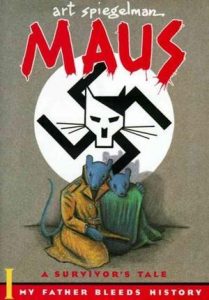 Maus by Art Spiegelman
GRAPHIC NOVEL MAUS
"The author-illustrator traces his father's imprisonment in a Nazi concentration camp through a series of disarming and unusual cartoons arranged to tell the story as a novel."
---
And if you're looking for more reading suggestions, check out some of these posts that we ran last year for Banned Books Week:
Frequently Challenged Books for Children
Frequently Challenged Books for Teens
Frequently Challenged Books for Adults
Top 10 Challenged Books of 2015
Frequently Challenged Books With Diverse Content (from American Library Association website)
Happy reading!
—Katie, Adult Reference
Save