Read Harder 2017: Fantasy Novels
The Read Harder challenge for this week is actually pretty simple: read a fantasy novel.  So if you're not familiar with fantasy or the incredible ways it's been evolving over the years, here are a few recent novels to sink your teeth into.  Click on a cover or a title to place a hold.
All the Birds in the Sky by Charlie Jane Anders
FANTASY ANDERS
"When Patricia Delfine was six years old, a wounded bird led her deep into the forest to the Parliament of Birds, where she met the Great Tree and was asked a question that would determine the course of her life. When Laurence Armstead was in grade school, he cobbled together a wristwatch-sized device that could send its wearer two seconds into the future. When Patricia and Laurence first met in high school, they didn't understand one another at all. But as time went on, they kept bumping into one another's lives. Now they're both grown up, and the planet is falling apart around them. Laurence is an engineering genius who's working with a group that aims to avert catastrophic breakdown through technological intervention into the changing global climate. Patricia is a graduate of Eltisley Maze, the hidden academy for the world's magically gifted, and works with a small band of other magicians to secretly repair the world's every-growing ailments. Neither Laurence nor Patricia can keep pace with the speed at which things fall apart. But something bigger than either of them, something begun deep in their childhoods, is determined to bring them together."
---
Soulless by Gail Carriger
FANTASY CARRIGER
"Alexia Tarabotti is laboring under a great many social tribulations. First, she has no soul. Second, she's a spinster whose father is both Italian and dead. Third, she was rudely attacked by a vampire, breaking all standards of social etiquette. Where to go from there? From bad to worse apparently, for Alexia accidentally kills the vampire — and then the appalling Lord Maccon (loud, messy, gorgeous, and werewolf) is sent by Queen Victoria to investigate. With unexpected vampires appearing and expected vampires disappearing, everyone seems to believe Alexia responsible. Can she figure out what is actually happening to London's high society? Will her soulless ability to negate supernatural powers prove useful or just plain embarrassing? Finally, who is the real enemy, and do they have treacle tart?"
---
Sorcerer to the Crown by Zen Cho
FANTASY CHO
"In this sparkling debut, magic and mayhem clash with the British elite… The Royal Society of Unnatural Philosophers, one of the most respected organizations throughout all of England, has long been tasked with maintaining magic within His Majesty's lands. But lately, the once proper institute has fallen into disgrace, naming an altogether unsuitable gentleman–a freed slave who doesn't even have a familiar–as their Sorcerer Royal, and allowing England's once profuse stores of magic to slowly bleed dry. At least they haven't stooped so low as to allow women to practice what is obviously a man's profession… At his wit's end, Zacharias Wythe, Sorcerer Royal of the Unnatural Philosophers and eminently proficient magician, ventures to the border of Fairyland to discover why England's magical stocks are drying up. But when his adventure brings him in contact with a most unusual comrade, a woman with immense power and an unfathomable gift, he sets on a path which will alter the nature of sorcery in all of Britain–and the world at large.."
---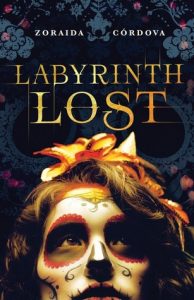 Labyrinth Lost by Zoraida Cordova
YA FICTION CORDOVA
"Alex is a bruja and the most powerful witch in her family. But she's hated magic ever since it made her father disappear into thin air. When a curse she performs to rid herself of magic backfires and her family vanishes, she must travel to Los Lagos, a land in-between as dark as Limbo and as strange as Wonderland, to get her family back."
---
The 5th Season by N.K. Jemison
FANTASY JEMISON
"Three terrible things happen in a single day. Essun, masquerading as an ordinary schoolteacher in a quiet small town, comes home to find that her husband has brutally murdered their son and kidnapped their daughter. Mighty Sanze, the empire whose innovations have been civilization's bedrock for a thousand years, collapses as its greatest city is destroyed by a madman's vengeance. And worst of all, across the heartland of the world's sole continent, a great red rift has been been torn which spews ash enough to darken the sky for years. Or centuries. But this is the Stillness, a land long familiar with struggle, and where orogenes — those who wield the power of the earth as a weapon — are feared far more than the long cold night. Essun has remembered herself, and she will have her daughter back. She does not care if the world falls apart around her. Essun will break it herself, if she must, to save her daughter."
---
Every Heart a Doorway by Seanan McGuire
FANTASY MCGUIRE
"Children have always disappeared from Eleanor West's Home for Wayward Children under the right conditions; slipping through the shadows under a bed or at the back of a wardrobe, tumbling down rabbit holes and into old wells, and emerging somewhere… else. But magical lands have little need for used-up miracle children. Nancy tumbled once, but now she's back. The things she's experienced… they change a person. The children under Miss West's care understand all too well. And each of them is seeking a way back to their own fantasy world. But Nancy's arrival marks a change at the Home. There's a darkness just around each corner, and when tragedy strikes, it's up to Nancy and her new-found schoolmates to get to the heart of the matter. No matter the cost."
---
The Night Circus by Erin Morganstern
FANTASY MORGANST
"Waging a fierce competition for which they have trained since childhood, circus magicians Celia and Marco unexpectedly fall in love with each other and share a fantastical romance that manifests in fateful ways."
---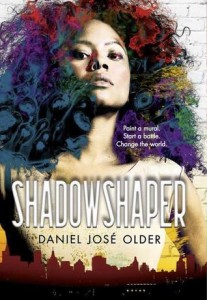 Shadowshaper by Daniel Jose Older
YA FICTION OLDER
"When the murals painted on the walls of her Brooklyn neighborhood start to change and fade in front of her, Sierra Santiago realizes that something strange is going on–then she discovers her Puerto Rican family are shadowshapers and finds herself in a battle with an evil anthropologist for the lives of her family and friends."
---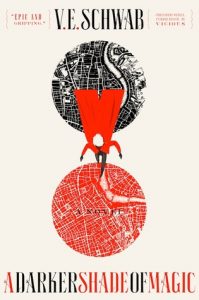 A Darker Shade of Magic by V.E. Schwab
FANTASY SCHWAB
"Kell is one of the last Travelers–magicians with a rare, coveted ability to travel between parallel universes–as such, he can choose where he lands. There's Grey London, dirty and boring, without any magic, ruled by a mad King George. Then there's Red London, where life and magic are revered, and the Maresh Dynasty presides over a flourishing empire. White London, ruled by whoever has murdered their way to the throne–a place where people fight to control magic, and the magic fights back, draining the city to its very bones. And once upon a time, there was Black London…but no one speaks of that now. Officially, Kell is the Red Traveler, personal ambassador and adopted Prince of Red London, carrying the monthly correspondences between the royals of each London. Unofficially, Kell is a smuggler, servicing people willing to pay for even the smallest glimpses of a world they'll never see–a dangerous hobby, and one that has set him up for accidental treason. Fleeing into Grey London, Kell runs afoul of Delilah Bard, a cut-purse with lofty aspirations, first robs him, then saves him from a dangerous enemy, and then forces him to spirit her to another world for a proper adventure. But perilous magic is afoot, and treachery lurks at every turn. To save all of the worlds, Kell and Lila will first need to stay alive–and that is proving trickier than they hoped."
Happy reading!
—Katie, Adult Reference
Save
Save