Read Harder 2017: Collection of Stories by a Female Author
For readers who are still following along with the Read Harder Challenge of 2o17, we have just a few more challenges to cover here on the blog! This week, the challenge is to read a collection of stories by a female author. Click on a title or a cover image below to place a hold!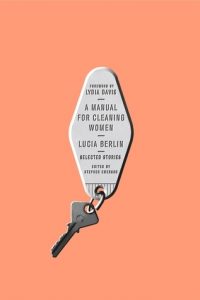 A Manual for Cleaning Women by Lucia Berlin
FICTION BERLIN
"With her trademark blend of humor and melancholy, Berlin crafts miracles from the everyday–uncovering moments of grace in the cafeterias and Laundromats of the American Southwest, in the homes of the Northern California upper classes, and from the perspective of a cleaning woman alone in a hotel dining room in Mexico City. The women of Berlin's stories are lost, but they are also strong, clever, and extraordinarily real. They are hitchhikers, hard workers, bad Christians. With the wit of Lorrie Moore and the grit of Raymond Carver, they navigate a world of jockeys, doctors, and switchboard operators."
---
Mothers Tell Your Daughters by Bonnie Jo Campbell
FICTION CAMPBELL
"A collection of stories featuring the working-class struggles and self-sabotaging betrayals of mother and daughter protagonists."
---
Ghost Summer by Tananarive Due
HORROR DUE
"In her debut collection of short fiction, Due takes us to Gracetown, a small Florida town that has both literal and figurative ghost; into future scenarios that seem all too real; and provides empathetic portraits of those whose lives are touched by Otherness."
---
American Housewife by Helen Ellis
FICTION ELLIS
"Meet the women of American Housewife: they wear lipstick, pearls, and sunscreen, even when it's cloudy. They casserole. They pinwheel. They pump the salad spinner like it's a CPR dummy. And then they kill a party crasher, carefully stepping around the body to pull cookies out of the oven. These twelve irresistible stories take us from a haunted prewar Manhattan apartment building to the set of a rigged reality television show, from the unique initiation ritual of a book club to the getaway car of a pageant princess on the lam, from the gallery opening of a tinfoil artist to the fitting room of a legendary lingerie shop. Vicious, fresh, and nutty as a poisoned Goo Goo Cluster, American Housewife is an uproarious, pointed commentary on womanhood."
---
Difficult Women by Roxane Gay
FICTION GAY
"Roxane Gay returns with Difficult Women, a collection of stories of rare force and beauty, of hardscrabble lives, passionate loves, and quirky and vexed human connection. The women in these stories live lives of privilege and of poverty, are in marriages both loving and haunted by past crimes or emotional blackmail. From a girls' fight club to a wealthy subdivision in Florida where neighbors conform, compete, and spy on each other, Gay delivers a wry, beautiful, haunting vision of modern America."
---
Barbara the Slut and Other People by Lauren Holmes
FICTION HOLMES
"A fresh, honest, and darkly funny debut collection about family, friends, and lovers, and the flaws that make us most human. Fearless, candid, and incredibly funny, Lauren Holmes is a newcomer who writes like a master. She tackles eros and intimacy with a deceptively light touch, a keen awareness of how their nervous systems tangle and sometimes short-circuit, and a genius for revealing our most vulnerable, spirited selves."
---
The Lottery and Other Stories by Shirley Jackson
YA FICTION JACKSON
"The Lottery, one of the most terrifying stories written in this century, created a sensation when it was first published in The New Yorker. "Power and haunting," and "nights of unrest" were typical reader responses. This collection, the only one to appear during Shirley Jackson's lifetime, unites "The Lottery:" with twenty-four equally unusual stories. Together they demonstrate Jack son's remarkable range–from the hilarious to the truly horrible–and power as a storyteller."
---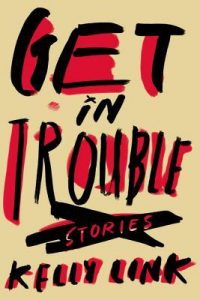 Get in Trouble by Kelly Link
FICTION LINK
"Hurricanes, astronauts, evil twin"s, bootleggers, Ouija boards, iguanas, The Wizard of Oz, superheroes, the Pyramids . . . These are just some of the talismans of an imagination as capacious and as full of wonder as that of any writer today. But as fantastical as these stories can be, they are always grounded by sly humor and an innate generosity of feeling for the frailty–and the hidden strengths–of human beings. In Get in Trouble, this one-of-a-kind talent expands the boundaries of what short fiction can do."
---
What is Not Yours is Not Yours by Helen Oyeyemi
FICTION OYEYEMI
"The stories collected in What Is Not Yours Is Not Yours are linked by more than the exquisitely winding prose of their creator: Helen Oyeyemi's ensemble cast of characters slip from the pages of their own stories only to surface in another. The reader is invited into a world of lost libraries and locked gardens, of marshlands where the drowned dead live and a city where all the clocks have stopped."
---
St. Lucy's Home for Girls Raised by Wolves by Karen Russell
FICTION RUSSELL
"In these ten glittering stories, Karen Russell takes us to the ghostly and magical swamps of the Florida Everglades. Here wolflike girls are reformed by nuns, a family makes their living wrestling alligators in a theme park, and little girls sail away on crab shells."
---
Battleborn by Claire Vaye Watkins
FICTION WATKINS
"A debut collection of ten short works reimagines the mythology of the American West and includes stories of a foreigner's arrival at a prostitution ranch, a hermit's attempt to rescue an abused teen, and a woman's role in a friend's degrading Vegas encounter."
Happy reading!
—Katie, Adult Reference