Read Harder 2017: Book About War
This week's Read Harder challenge, "Read a book about war," calls for some potentially heavy reading.  We picked both fiction and nonfiction titles, and tried to represent a range of historical time periods.  Click on a cover or a title to place a hold.
Fiction
The Cartographer of No Man's Land by P.S. Duffy
FICTION DUFFY
"When his beloved brother-in-law goes missing at the front in 1916, Angus defies his pacifist upbringing to join the war and find him. Assured a position as a cartographer in London, he is instead sent directly into the visceral shock of battle. Meanwhile, at home, his son Simon Peter must navigate escalating hostility in a fishing village torn by grief."
---
Matterhorn by Karl Marlantes
FICTION MARLANTE
"In the tradition of Norman Mailer's "The Naked and the Dead" and James Jones's "The Thin Red Line," Marlantes tells the powerful and compelling story of a young Marine lieutenant, Waino Mellas, and his comrades in Bravo Company, who are dropped into the mountain jungle of Vietnam as boys and forced to fight their way into manhood."
---
Fallen Angels by Walter Dean Myers
YA FICTION MYERS
"Seventeen-year-old Richie Perry, just out of his Harlem high school, enlists in the Army in the summer of 1967 and spends a devastating year on active duty in Vietnam."
---
The Things They Carried by Tim O'Brien
FICTION O'BRIEN
"This work depicts the heroic young men of Alpha Company as they carry the emotional weight of their lives to war in Vietnam in a patchwork account of a modern journey into the heart of darkness. They battle the enemy (or maybe more the idea of the enemy), and occasionally each other. In their relationships we see their isolation and loneliness, their rage and fear. They miss their families, their girlfriends and buddies; they miss the lives they left back home. Yet they find sympathy and kindness for strangers (the old man who leads them unscathed through the mine field, the girl who grieves while she dances), and love for each other, because in Vietnam they are the only family they have."
---
The English Patient by Michael Ondaatje
LARGE PRINT FICTION OND
"With ravishing beauty and unsettling intelligence, Michael Ondaatje's Booker Prize-winning novel traces the intersection of four damaged lives in an Italian villa at the end of World War II. Hana, the exhausted nurse; the maimed thief, Caravaggio; the wary sapper, Kip: each is haunted by the riddle of the English patient, the nameless, burned man who lies in an upstairs room and whose memories of passion, betrayal, and rescue illuminate this book like flashes of heat lightning."
---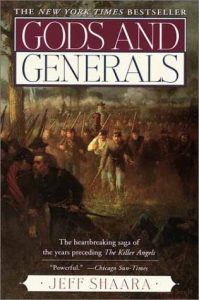 Gods and Generals by Jeff Shaara
FICTION SHA
"In this brilliantly written epic novel, Jeff Shaara traces the lives, passions, and careers of the great military leaders from the first gathering clouds of the Civil War. Here is Thomas "Stonewall" Jackson, a hopelessly by-the-book military instructor and devout Christian who becomes the greatest commander of the Civil War; Winfield Scott Hancock, a captain of quartermasters who quickly establishes himself as one of the finest leaders of the Union army; Joshua Chamberlain, who gives up his promising academic career and goes on to become one of the most heroic soldiers in American history; and Robert E. Lee, never believing until too late that a civil war would ever truly come to pass."
---
Code Name Verity by Elizabeth Wein
YA FICTION WEIN
"In 1943, a British fighter plane crashes in Nazi-occupied France and the survivor tells a tale of friendship, war, espionage, and great courage as she relates what she must to survive while keeping secret all that she can."
---
Nonfiction
Band of Sisters: American Women at War in Iraq by Kirsten Holmstedt
956.7044 HOLMSTED
"In Iraq, the front line is everywhere…and everywhere in Iraq, women in the U.S. military fight. More than 155,000 of them have served in Iraq since 2003–four times the number of women sent to Desert Storm in 1991–and more than 430 have been wounded and over 70 killed, almost twice the number of U.S. military women killed in action in Korea, Vietnam, and Desert Storm combined. Band of Sisters presents twelve amazing and often heart-wrenching stories of American women in the front lines including America's first female pilot to be shot down and survive, the U.S. military's first black female combat pilot, a 21-year-old turret gunner defending a convoy, two military policewomen in a firefight, a nurse struggling to save lives, including her own and more."
---
Soldier Girls: The Battles of Three Women at Home and At War by Helen Thorpe
956.7044 THORPE
"Describes the experiences of three women soldiers deployed to Afghanistan and Iraq to reveal how their military service has affected their friendship, personal lives and families, detailing the realities of their work on bases and in war zones and how their choices and losses shaped their perspectives."
---
The Wrong Enemy: America in Afghanistan, 2001-2014 by Carlotta Gall
958.1047 GALL
"In this sweeping account of a war brought by well-intentioned American leaders against an enemy they barely understood, and could not truly engage, Gall argues that Pakistan fueled the Taliban and protected Osama bin Laden for the entire duration of the American invasion and occupation."
---
What It is Like to Go to War by Karl Marlantes
959.7043 MARLANTE
"In his memoir, Marlantes relates his combat experiences in Vietnam and discusses the daily contradictions warriors face in the grind of war, where each battle requires them to take life or spare life. He also underscores the need for returning veterans to be counseled properly."
---
Liar, Temptress, Soldier, Spy: Four Women Undercover in the Civil War by Karen Abbott
973.785 ABBOTT
"Karen Abbott illuminates one of the most fascinating yet little known aspects of the Civil War: the stories of four courageous women—a socialite, a farmgirl, an abolitionist, and a widow—who were spies. After shooting a Union soldier in her front hall with a pocket pistol, Belle Boyd became a courier and spy for the Confederate army, using her charms to seduce men on both sides. Emma Edmonds cut off her hair and assumed the identity of a man to enlist as a Union private, witnessing the bloodiest battles of the Civil War. The beautiful widow, Rose O'Neale Greenhow, engaged in affairs with powerful Northern politicians to gather intelligence for the Confederacy, and used her young daughter to send information to Southern generals. Elizabeth Van Lew, a wealthy Richmond abolitionist, hid behind her proper Southern manners as she orchestrated a far-reaching espionage ring, right under the noses of suspicious rebel detectives. Using a wealth of primary source material and interviews with the spies' descendants, Abbott seamlessly weaves the adventures of these four heroines throughout the tumultuous years of the war. With a cast of real-life characters including Walt Whitman, Nathaniel Hawthorne, General Stonewall Jackson, detective Allan Pinkerton, Abraham and Mary Todd Lincoln, and Emperor Napoleon III, Liar, Temptress, Soldier, Spy draws you into the war as these daring women lived it."
---
Unbroken: A World War II Story of Survival, Resilience, and Redemption by Laura Hillenbrand
B ZAM
"On a May afternoon in 1943, an Army Air Forces bomber crashed into the Pacific Ocean and disappeared, leaving only a spray of debris and a slick of oil, gasoline, and blood. Then, on the ocean surface, a face appeared–Lt. Louis Zamperini. Captured by the Japanese and driven to the limits of endurance, Zamperini would answer desperation with ingenuity; suffering with hope, resolve, and humor."
Happy reading!
—Katie, Adult Reference