On Monday , the publishing and library industries were abuzz as the Pulitzer Prize winners and shortlist titles were announced!  In case you missed it, here are this  year's winning and nominated titles.  Click on any of the links to place a hold on the book.  eBook and eAudiobook links are provided where applicable.
Fiction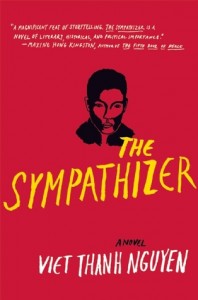 The Sympathizer by Viet Than Nguyen
"A layered immigrant tale told in the wry, confessional voice of a 'man of two minds' — and two countries, Vietnam and the United States."
Shortlist Titles:
Get in Trouble: Stories by Kelly Link
Maud's Line by Margaret Verble
Drama
Hamilton by Lin-Manuel Miranda
"A landmark American musical about the gifted and self-destructive founding father whose story becomes both contemporary and irresistible."
Shortlist Titles:
Gloria by Brandon Jacobs-Jenkins
The Humans by Stephen Karam
History
Custer's Trials: A Life on the Frontier of a New America by T.J. Stiles
"A rich and surprising new telling of the journey of the iconic American soldier whose death turns out not to have been the main point of his life. (Moved by the Board from the Biography category.)"
Shortlist Titles:
Marching Home: Union Veterans and Their Unending Civil War by Brian Matthew Jordan (link to eAudiobook)
Target Tokyo: Jimmy Doolittle and the Raid That Avenged Pearl Harbor by James M. Scott (link to eBook)
The Pentagon's Brain: An Uncensored History of DARPA, America's Top-Secret Military Research Agency by Annie Jacobsen
Biography/Autobiography
Barbarian Days: A Surfing Life by William Finnegan
"A finely crafted memoir of a youthful obsession that has propelled the author through a distinguished writing career."
Shortlist Titles:
Custer's Trials: A Life on the Frontier of a New America by T.J. Stiles
The Light of the World: A Memoir by Elizabeth Alexander
Poetry
Ozone Journal by Peter Balakian
"Poems that bear witness to the old losses and tragedies that undergird a global age of danger and uncertainty."
Shortlist Titles:
Alive: New and Selected Poems by Elizabeth Willis
Four-Legged Girl by Diane Seuss
General Nonfiction
Black Flags: The Rise of ISIS by Joby Warrick
"A deeply reported book of remarkable clarity showing how the flawed rationale for the Iraq War led to the explosive growth of the Islamic State."
Shortlist Titles:
Between the World and Me by Ta-Nehisi Coates
If the Oceans Were Ink: An Unlikely Friendship and a Journey to the Heart of the Quran by Carla Power
If the library does not own a title that you're interested in, feel free to submit a purchase suggestion.  The suggestion will be sent to our Collection Management team, and if they are able to purchase a copy for the library's collection, you will be placed on the hold list and notified as soon as the item is available.
Happy reading!
— Katie, Adult Reference