OneClick Digital: Breath, Eyes, Memory by Edwidge Danticat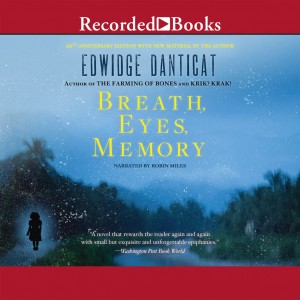 Internationally acclaimed Haitian author and Pushcart Prize winner Edwidge Danticat wrote the heart-wrenching novel The Dew Breaker. With the Oprah's Book Club Selection Breath, Eyes, Memory, Danticat contemplates the paradoxical coexistence of sublime beauty and terrible suffering in her homeland. Twelve-year-old Sophie Caco is removed from her impoverished village and sent to live in New York with her mother, a woman she barely knows. There she learns about a terrible truth that shadows her family. Click the link to download the audio book from OneClick Digital.
Click here to place a hold on a physical copy of Breath, Eyes, Memory.
Click here to download the SparkNotes guide from Freading.
Interested in more titles by Edwidge Danticat?  You can search by author in the library's catalog or you can click here to download the eBook version of her 2013 award-winning novel, Claire of the Sea Light.