New to Romance? Try One of These!
Valentine's Day and romance novels go hand-in-hand (pun intended), but if you've never tried a romance novel, it can be really difficult to decide where to start! Maybe you've never considered yourself a romance reader, or maybe you're really eager to grab a romance, but aren't sure which one to choose. Either way, we've come up with a list to help you get started. All of these books have fierce, independent heroines, compelling stories, and diverse perspectives that are guaranteed to grab your attention.
So go ahead and give love a chance this year! You might surprise yourself!
The Magpie Lord by K.J. Charles
FANTASY CHARLES
"A lord in danger. A magician in turmoil. A snowball in hell. A Charm of Magpies, Book 1 Exiled to China for twenty years, Lucien Vaudrey never planned to return to England. But with the mysterious deaths of his father and brother, it seems the new Lord Crane has inherited an earldom. He's also inherited his family's enemies. He needs magical assistance, fast. He doesn't expect it to turn up angry. Magician Stephen Day has good reason to hate Crane's family. Unfortunately, it's his job to deal with supernatural threats. Besides, the earl is unlike any aristocrat he's ever met, with the tattoos, the attitude…and the way Crane seems determined to get him into bed. That's definitely unusual. Soon Stephen is falling hard for the worst possible man, at the worst possible time. But Crane's dangerous appeal isn't the only thing rendering Stephen powerless. Evil pervades the house, a web of plots is closing round Crane, and if Stephen can't find a way through it-they're both going to die."
---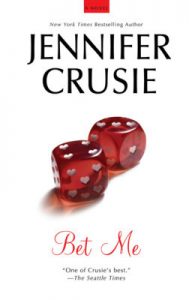 Bet Me by Jennifer Crusie
ROMANCE CRUSIE
"Agreeing not to pursue a relationship after one date, unlikely lovers Min Dobbs and Cal Morrisey are thrown together again in the wake of such factors as a jealous ex-boyfriend, a determined psychologist, and a bizarrely intelligent cat."
---
Forbidden by Beverly Jenkins
ROMANCE JENKINS
"Rhine Fontaine is building the successful life he's always dreamed of–one that depends upon him passing for White. But for the first time in years, he wishes he could step out from behind the façade. The reason: Eddy Carmichael, the young woman he rescued in the desert. Outspoken, defiant, and beautiful, Eddy tempts Rhine in ways that could cost him everything . . . and the price seems worth paying. Eddy owes her life to Rhine, but she won't risk her heart for him. As soon as she's saved enough money from her cooking, she'll leave this Nevada town and move to California. No matter how handsome he is, no matter how fiery the heat between them, Rhine will never be hers. Giving in for just one night might quench this longing. Or it might ignite an affair as reckless and irresistible as it is forbidden . . ."
---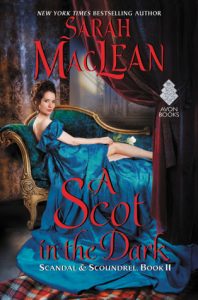 A Scot in the Dark by Sarah MacLean
ROMANCE MACLEAN
"Miss Lillian Hargrove has lived much of her life alone in a gilded cage, longing for love and companionship. When an artist offers her pretty promises and begs her to pose for a scandalous portrait, Lily doesn't hesitate . . .until the lying libertine leaves her in disgrace. With the painting now public, Lily has no choice but to turn to the one man who might save her from ruin. The Duke of Warnick loathes all things English, none more so than the aristocracy. It does not matter that the imposing Scotsman has inherited one of the most venerable dukedoms in Britain–he wants nothing to do with it, especially when he discovers that the unwanted title comes with a troublesome ward, one who is far too old and far too beautiful to be his problem. Warnick arrives in London with a single goal: get the chit married and see her become someone else's problem, then return to a normal, quiet life in Scotland. It's the perfect plan, until Lily declares she'll only marry for love . . . and the Scot finds that there is one thing in England he likes far too much."
---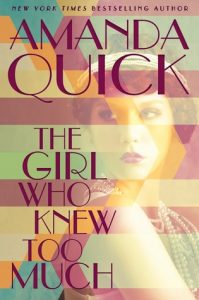 The Girl Who Knew Too Much by Amanda Quick
ROMANCE QUICK
"When Hollywood moguls and stars want privacy, they head to an idyllic small town on the coast, where the exclusive Burning Cove Hotel caters to their every need. It's where reporter Irene Glasson finds herself staring down at a beautiful actress at the bottom of a pool…The dead woman had a red-hot secret about up-and-coming leading man Nick Tremayne, a scoop that Irene couldn't resist–especially since she's just a rookie at a third-rate gossip rag. But now Irene's investigation into the drowning threatens to tear down the wall of illusion that is so deftly built around the famous actor, and there are powerful men willing to do anything to protect their investment. Seeking the truth, Irene finds herself drawn to a master of deception. Oliver Ward was once a world-famous magician–until he was mysteriously injured during his last performance. Now the owner of the Burning Cove Hotel, he can't let scandal threaten his livelihood, even if it means trusting Irene, a woman who seems to have appeared in Los Angeles out of nowhere four months ago…With Oliver's help, Irene soon learns that the glamorous paradise of Burning Cove hides dark and dangerous secrets. And that the past–always just out of sight–could drag them both under…"
---
Hate to Want You by Alisha Rai
ROMANCE RAI
"One night. No one will know. That was the deal. Every year, Livvy Kane and Nicholas Chandler would share one perfect night of illicit pleasure. The forbidden hours let them forget the tragedy that haunted their pasts-and the last names that made them enemies. Until the night she didn't show up. Now Nicholas has an empire to run. He doesn't have time for distractions and Livvy's sudden reappearance in town is a major distraction. She's the one woman he shouldn't want…so why can't he forget how right she feels in his bed? Livvy didn't come home for Nicholas, but fate seems determined to remind her of his presence–and their past. Although the passion between them might have once run hot and deep, not even love can overcome the scandal that divided their families. Being together might be against all the rules…but being apart is impossible."
Happy reading!
—Katie, Adult Reference