National LGBTQ+ Pride Month
June is National LGBTQ+ Month, and although we try to include LGBTQ+ titles in our book displays and blog posts year round, we're taking extra time this month to recognize these titles and authors.  Click on a book cover or a title to place a hold, and keep an eye out for our next Pride Month blog post, which will cover some of the best LGBTQ+ reads for young adults!
Fiction

Jam on the Vine by Lashonda Katrice Barnett
FICTION BARNETT
"A dynamic and compulsive debut, Jam on the Vine chronicles the life of trailblazing African American woman journalist, Ivoe Williams, through the start of the twentieth century. In unflinching prose, we follow Ivoe and her family from the Deep South to the Midwest. Jam on the Vine is both an epic vision of the injustices that defined an era and a compelling story of a complicated history we only thought we knew."
---
Frog Music by Emma Donoghue
LARGE PRINT FICTION DONOGHUE
"Burlesque dancer Blanche Beunon tries to discover who murdered her friend Jenny, who was shot through a window in a railroad saloon in 1876 San Francisco, amidst a record-breaking heatwave and smallpox epidemic."
---
Song of Achilles by Madeleine Miller
FICTION MILLER
"Patroclus, an awkward young prince, follows Achilles into war, little knowing that the years that follow will test everything they have learned, everything they hold dear. And that, before he is ready, he will be forced to surrender his friend to the hands of Fate. Set during the Trojan War."
---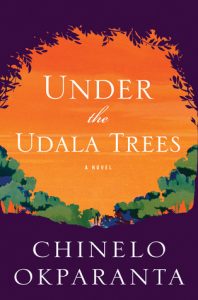 Under the Udala Trees by Chinelo Okparanta
FICTION OKPARANT
"A young Nigerian girl, displaced during their civil war, begins a powerful love affair with another refugee girl from a different ethnic community until the pair are discovered and must learn the cost of living a lie amidst taboos and prejudices."
---
Lovers at the Chameleon Club, Paris 1932 by Francine Prose
FICTION PROSE
"A richly imagined and stunningly inventive story of love, art, and betrayal in Paris of the 20's, 30's, and 40's."
---
City of Devi by Manil Suri
FICTION SURI
"Mumbai has emptied under the threat of imminent nuclear annihilation; gangs of marauding Hindu and Muslim thugs rove the desolate streets; yet Sarita can think of only one thing: buying the last pomegranate that remains in perhaps the entire city. She is convinced that the fruit holds the key to reuniting her with her physicist husband, Karun, who has been mysteriously missing for more than a fortnight."
---
The Fifth Beatle: The Brian Epstein Story by Vivek J. Tiwari
GRAPHIC NOVEL FIFTH
"In 1961, twenty-seven-year-old Brian Epstein walked into a dank Liverpool basement to see an unknown rock band perform–and our world was forever changed. The fifth Beatle is Epstein's untold true story: the tale of a genuine visionary who discovered, managed, and guided the Beatles to unprecedented international stardom, rewriting the rule of the pop music business in the process. But Brian Epstein was also the ultimate outsider, constantly searching for a place where he might belong. He helped spread the Beatles' message of love to the entire world, yet died painfully lonely at the young age of thirty-two, consumed by staggering ambition and the endless, seemingly insurmountable struggles that came with it."
---
The Paying Guests by Sarah Waters
FICTION WATERS
"It is 1922, and London is tense. Ex-servicemen are disillusioned, the out-of-work and the hungry are demanding change. And in South London, in a genteel Camberwell villa, a large silent house now bereft of brothers, husband and even servants, life is about to be transformed, as impoverished widow Mrs Wray and her spinster daughter, Frances, are obliged to take in lodgers.
---
Nonfiction
Living Out Islam: Voices of Gay, Lesbian, and Transgender Muslims by Scott Siraj al-Haqq Kugle
297.0866 KUGLE
"Living Out Islam documents the rarely-heard voices of Muslims who live in secular democratic countries and who are gay, lesbian, and transgender. It weaves original interviews with Muslim activists into a compelling composite picture which showcases the importance of the solidarity of support groups in the effort to change social relationships and achieve justice. This nascent movement is not about being "out" as opposed to being "in the closet." Rather, as the voices of these activists demonstrate, it is about finding ways to live out Islam with dignity and integrity, reconciling their sexuality and gender with their faith and reclaiming Islam as their own."
---
The Gay Revolution: The Story of the Struggle by Lillian Faderman
306.766 FADERMAN
"The sweeping story of the modern struggle for gay, lesbian, and trans rights from the 1950s to the present—based on amazing interviews with politicians, military figures, legal activists, and members of the entire LGBT community who face these challenges every day. The fight for gay, lesbian, and trans civil rights—the years of outrageous injustice, the early battles, the heart-breaking defeats, and the victories beyond the dreams of the gay rights pioneers—is the most important civil rights issue of the present day. Based on rigorous research and more than 150 interviews, The Gay Revolution tells this unfinished story not through dry facts but through dramatic accounts of passionate struggles, with all the sweep, depth, and intricacies only an award-winning activist, scholar, and novelist like Lillian Faderman can evoke. "
---
It Gets Better: Coming Out, Overcoming Bullying, and Creating a Life Worth Living by Dan Savage & Terry Miller (eds)
306.766 IT
"A collection of original essays and expanded testimonials written to teens from celebrities, political leaders, and everyday people. While many of these teens can't see a positive future for themselves, we can. We can show LGBT youth the kind of happiness, potential, and satisfaction their lives hold if they can just get through these early years."
---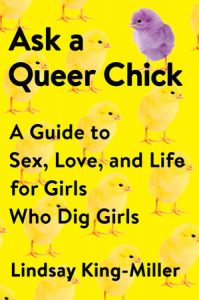 Ask a Queer Chick: A Guide to Sex, Love, and Life for Girls Who Dig Girls by Lindsay King-Miller
306.76633 KING-MIL
"This guide to sex, love and life for girls who like girls is useful whether you're a lady-dating veteran or still trying to come out to yourself. Seasoned advice columnist and queer chick Lindsay King Miller cuts through all of the bizarre conditioning imparted by parents, romantic comedies, and The L Word to help queer readers live authentic, safe, happy, sexy lives. With advice on every aspect of life as a lesbian, gay, bisexual, or queer woman–from your first Pride to confronting discrimination in the workplace–there is guidance for some of the most major parts of living in a world that can vacillate between supportive and cruel."
---
Raising My Rainbow: Adventures in Raising a Fabulous, Gender Creative Son by Lori Duron
306.874 DURON
"Raising My Rainbow is Lori Duron's frank, heartfelt, and brutally funny account of her and her family's adventures of distress and happiness raising a gender-creative son. Whereas her older son, Chase, is a Lego-loving, sports-playing boy's boy, her younger son, C.J., would much rather twirl around in a pink sparkly tutu, with a Disney Princess in each hand while singing Lady Gaga's "Paparazzi." C.J. is gender variant or gender nonconforming, whichever you prefer. Whatever the term, Lori has a boy who likes girl stuff–really likes girl stuff. He floats on the gender-variation spectrum from super-macho-masculine on the left all the way to super-girly-feminine on the right. He's not all pink and not all blue. He's a muddled mess or a rainbow creation. Lori and her family choose to see the rainbow. Written in Lori's uniquely witty and warm voice and launched by her incredibly popular blog of the same name, Raising My Rainbow is the unforgettable story of her wonderful family as they navigate the often challenging but never dull privilege of raising a slightly effeminate, possibly gay, totally fabulous son."
---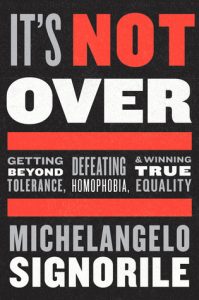 It's Not Over: Getting Beyond Tolerance, Defeating Homophobia, and Winning True Equality by Michelangelo Signorile
323.3264 SIGNORIL
"Marriage equality has surged across the country. Closet doors have burst open in business, entertainment, and even major league sports. But as longtime advocate Michelangelo Signorile argues in his most provocative book yet, the excitement of such breathless change makes this moment more dangerous than ever. Puncturing the illusion that victory is now inevitable, Signorile marshals stinging evidence that an age-old hatred, homophobia, is still a basic fact of American life. He exposes the bigotry of the brewing religious conservative backlash against LGBT rights and challenges the complacency and hypocrisy of supposed allies in Washington, the media, and Hollywood. Not just a wake-up call, It's Not Over is also a battle plan for the fights to come in the march toward equality."
---
Then Comes Marriage: United States v. Windsor and the Defeat of DOMA by Roberta Kaplan & Lisa Dickey
346.7301 KAPLAN
"Chronicles the story of the renowned litigator author's defeat of the Defense of Marriage Act before the Supreme Court, recounting her advocacy of a gay client who was denied marital protections and the author's own private struggles to forge a family."
---
Speak Now: Marriage Equality on Trial: The Story of Hollingsworth v. Perry by Kenji Yoshino
346.794 YOSHINO
"Speak Now tells the story of a watershed trial that unfolded over twelve tense days in California in 2010. A trial that legalized same-sex marriage in our most populous state. A trial that interrogated the nature of marriage, the political status of gays and lesbians, the ideal circumstances for raising children, and the ability of direct democracy to protect fundamental rights. A trial that stands as the most potent argument for marriage equality this nation has ever seen. In telling the story of Hollingsworth v. Perry, the groundbreaking federal lawsuit against Proposition 8, Kenji Yoshino has also written a paean to the vanishing civil trial–an oasis of rationality in what is often a decidedly uncivil debate. Above all, this book is a work of deep humanity, in which Yoshino brings abstract legal arguments to life by sharing his own story of finding love, marrying, and having children as a gay man."
Happy reading!
—Katie, Adult Reference
Save
Save