Booklist's National Mystery Month – The Edgar Awards
Booklist, one of the leading professional publications for libraries, has designated the month of May as their National Mystery Month!  Even though many people celebrate Mystery Month in October, we thought we'd join Booklist and share some of our favorite mystery and suspense novels with you over the next few weeks!
If you're already a  mystery fan, you're probably already familiar with the Edgar Awards and the Agatha Awards, both of which have been handed out within the last week.  For anyone who is not familiar with these awards, the Edgars are awarded to the best mystery and crime titles published within the last year, and the Agatha Awards are dedicated to traditional mysteries that best exemplify the work of Agatha Christie and other classic  mystery writers.  (Side note: The Agatha Awards are particularly helpful for readers looking to avoid harsh language, violence, or otherwise explicit content.  If you enjoy cozy mysteries and classic historicals, this is a great resource to check out!)
So without further ado, here are the winning and nominated titles for the Edgar Awards' biggest categories.  All book covers and titles are linked to either the catalog or to Amazon.com if the library does not own the item.  If you are interested in any titles that the library does not own, please feel free to fill out a purchase suggestion through the library's website or contact the Reference Department at wkgnref@waukeganpl.info or 847-623-2041 x238 .  Any items that you suggest for purchase will be placed on hold for you.  And look for the Agatha Award winners and nominees later this week!
Edgar Awards
Best Novel
Winner: Let Me Die In His Footsteps by Lori Roy
In the spellbinding and suspenseful Let Me Die in His Footsteps, Edgar Award–winner Lori Roy wrests from a Southern town the secrets of two families touched by an evil that has passed between generations.
Nominees:
The Strangler Vine by M.J. Carter
The Lady from Zagreb by Philip Kerr
Life or Death by Michael Robotham
Canary by Duane Swierczynski
Night Life by David C. Taylor
Best First Novel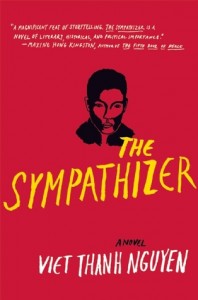 Winner: The Sympathizer by Viet Thanh Nguyen
The winner of the 2016 Pulitzer Prize for Fiction, compared by critics to the works of Graham Greene, Denis Johnson, and George Orwell, The Sympathizer is a blistering exploration of identity, politics, and America, wrought in electric prose. The narrator, a Vietnamese army captain, is a man of divided loyalties, a half-French, half-Vietnamese communist sleeper agent in America after the end of the Vietnam War. A powerful story of love and friendship, and a gripping espionage novel, The Sympathizer examines the legacy of the Vietnam War in literature, film, and the wars we fight today.
Nominees:
Past Crimes by Glen Erik Hamilton
Where All  Light Tends to Go by David Joy
Luckiest Girl Alive by Jessica Knoll
Unbecoming by Rebecca Scherm
Best Fact Crime
Winner: Whipping Boy: The Forty-Year Search for My Twelve-Year-Old Bully by Alan Kurzweil
Equal parts investigative memoir, crime procedural, and revenge thriller, Whipping Boy chronicles the author's real-life search for the childhood nemesis who has haunted his life for over forty years
Nominees:
Operation Nemesis: The Assassination Plot that Avenged the Armenian Genocide by Eric Bogosian
Where the Bodies Were Buried: Whitey Bulger and the World That Made Him by T.J. English
Forensics: What Bugs, Burns, Prints, DNA, and More Tell Us About Crime by Val McDermid
American Pain: How a Young Felon and His Ring of Doctors Unleashed America's Deadliest Drug Epidemic by John Temple
Best Young Adult
Winner: A Madness So Discreet by Mindy McGinnis
In this beautifully twisted historical thriller, Mindy McGinnis, acclaimed author of Not a Drop to Drink and In a Handful of Dust, explores the fine line between sanity and insanity, good and evil—and the madness that exists in all of us.
Nominees:
Endangered by Lamar Giles
The Sin Eater's Daughter by Melinda Salisbury
The Walls Around Us by Nova Ren Suma
Ask the Dark by Henry Turner
Happy reading!
—Katie, Adult Reference