Booklist, a favorite book reviewing resource for librarians, has designated May as its official Mystery Month, and we all get to benefit! All month long, Booklist and its blog The Booklist Reader are hard at work promoting new mysteries, backlist mysteries, crime TV shows, favorite book series, and more. If you're a mystery reader, this is a great resource to check out. You can even access mystery content from previous years on The Booklist Reader by clicking on the "mystery month" tag.
By this point, you probably have enough mysteries to keep you satisfied for weeks, but we wanted to join in on the fun too! Keep an eye out for our mystery-themed blog posts throughout the month, and keep reading for a few of our staff members' favorite mysteries! You can also find even more of our favorite mysteries (and other books) by visiting the Reader's Corner on our website and clicking on the Staff Picks tab at the top of the page.
You Will Know Me by Megan Abbott
MYSTERY ABBOTT
"Katie and Eric Knox have dedicated their lives to their fifteen-year-old daughter Devon, a gymnastics prodigy and Olympic hopeful. But when a violent death rocks their close-knit gymnastics community just weeks before an all-important competition, everything the Knoxes have worked so hard for feels suddenly at risk. As rumors swirl among the other parents, revealing hidden plots and allegiances, Katie tries frantically to hold her family together while also finding herself drawn, irresistibly, to the crime itself, and the dark corners it threatens to illuminate."
---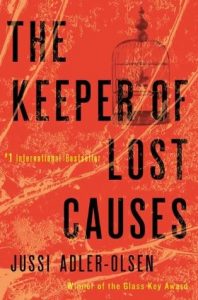 The Keeper of Lost Causes by Jussi Adler-Olsen
MYSTERY ADLER-OL
"Chief detective Carl Mørck, recovering from what he thought was a career-destroying gunshot wound, is relegated to cold cases and becomes immersed in the five-year disappearance of a politician."
---
Little Deaths by Emma Flint
MYSTERY FLINT
"Ruth Malone–a single mother who works long hours as a cocktail waitress–wakes to discover her two small children, Frankie Jr. and Cindy, have gone missing. Later that day, Cindy's body is found in a derelict lot a half mile from her home, strangled. Ten days later, Frankie Jr.'s decomposing body is found. Immediately, all fingers point to Ruth. As police investigate the murders, the detritus of Ruth's life is exposed. Seen through the eyes of the cops, the empty bourbon bottles and provocative clothing which litter her apartment, the piles of letters from countless men and Ruth's little black book of phone numbers, make her a drunk, a loose woman–and therefore a bad mother. Did Ruth Malone violently kill her own children, is she a victim of circumstance–or is there something more sinister at play?"
---
The Dry by Jane Harper
MYSTERY HARPER
"After getting a note demanding his presence, Federal Agent Aaron Falk arrives in his hometown for the first time in decades to attend the funeral of his best friend, Luke. Twenty years ago when Falk was accused of murder, Luke was his alibi. Falk and his father fled under a cloud of suspicion, saved from prosecution only because of Luke's steadfast claim that the boys had been together at the time of the crime. But now more than one person knows they didn't tell the truth back then, and Luke is dead. Amid the worst drought in a century, Falk and the local detective question what really happened to Luke. As Falk reluctantly investigates to see if there's more to Luke's death than there seems to be, long-buried mysteries resurface, as do the lies that have haunted them. And Falk will find that small towns have always hidden big secrets."
---
IQ by Joe Ide
MYSTERY IDE
"A resident of one of LA's toughest neighborhoods uses his blistering intellect to solve the crimes the LAPD ignores. East Long Beach. The LAPD is barely keeping up with the neighborhood's high crime rate. Murders go unsolved, lost children unrecovered. But someone from the neighborhood has taken it upon himself to help solve the cases the police can't or won't touch. They call him IQ. He's a loner and a high school dropout, his unassuming nature disguising a relentless determination and a fierce intelligence. He charges his clients whatever they can afford, which might be a set of tires or a homemade casserole. To get by, he's forced to take on clients that can pay. This time, it's a rap mogul whose life is in danger. As Isaiah investigates, he encounters a vengeful ex-wife, a crew of notorious cutthroats, a monstrous attack dog, and a hit man who even other hit men say is a lunatic. The deeper Isaiah digs, the more far reaching and dangerous the case becomes."
---
The Widows of Malabar Hill by Sujata Massey
MYSTERY MASSEY
"Inspired in part by the woman who made history as India's first female attorney, The Widows of Malabar Hill is a richly wrought story of multicultural 1920s Bombay as well as the debut of a sharp and promising new sleuth. Perveen Mistry, Bombay's first female lawyer, is investigating a suspicious will on behalf of three Muslim widows living in full purdah when the case takes a turn toward the murderous."
---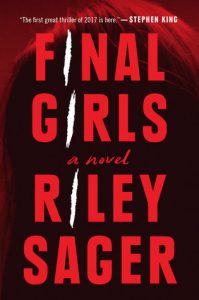 Final Girls by Riley Sager
MYSTERY SAGER
"Emerging as the lone survivor of a serial killer's massacre a decade earlier, Quincy Carpenter struggles to ignore traumatic memories and move on as one of a group of other survivors who look to her for answers when one of them is found dead in a suspicious suicide."
Happy reading!
—Katie, Adult Reference