May is Latino Books Month
May is a big month for book celebrations – not only do we get to celebrate mysteries for National Mystery Month, but we also get to learn about Latino Books Month, although we really like to read and promote Latino/a authors year-round.
Here are a few highlighted titles from our Latino Books Month display. Click on a cover or a title to place a hold!
Daughter of Fortune by Isabel Allende
FICTION ALL
"Orphaned at birth, Eliza Sommers is raised in the British colony of Valparaiso, Chile, by the well-intentioned Victorian spinster Miss Rose and her more rigid brother Jeremy. Just as she meets and falls in love with the wildly inappropriate Joaquin Andieta, a lowly clerk who works for Jeremy, gold is discovered in the hills of northern California. By 1849, Chileans of every stripe have fallen prey to feverish dreams of wealth. Joaqui;n takes off for San Francisco to seek his fortune, and Eliza, pregnant with his child, decides to follow him."
---
Have You Seen Marie? by Sandra Cisneros
FICTION CISNEROS
"The word "orphan" might not seem to apply to a fifty-three-year-old woman. Yet this is exactly how Sandra feels as she finds herself motherless, alone like "a glove left behind at the bus station." What just might save her is her search for someone else gone missing: Marie, the black-and-white cat of her friend, Roz, who ran off the day they arrived from Tacoma. As Sandra and Roz scour the streets of San Antonio, posting flyers and asking everywhere, "Have you seen Marie?" the pursuit of this one small creature takes on unexpected urgency and meaning."
---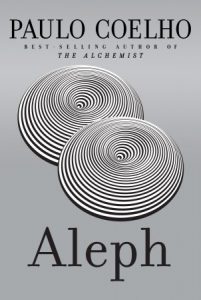 Aleph by Paulo Coelho
FICTION COELHO
"Aleph marks a return to the author's beginnings. In a frank and surprising personal story, one of the world's most beloved authors embarks on a remarkable and transformative journey of self discovery. Facing a grave crisis of faith, and seeking a path of spiritual renewal and growth, he decides to start over: to travel, to experiment, to reconnect with people and the world. On this journey through Europe, Africa, and Asia, he will again meet Hilal, the woman he loved 500 years before, an encounter that will initiate a mystical voyage through time and space, through past and present, in search of himself. Aleph is an encounter with our fears and our sins; a search for love and forgiveness, and the courage to confront the inevitable challenges of life."
---
Yaqui Delgado Wants to Kick Your Ass by Meg Medina
YA FICTION MEDINA
"One morning before school, some girl tells Piddy Sanchez that Yaqui Delgado hates her and wants to kick her ass. Piddy doesn't even know who Yaqui is, never mind what she's done to piss her off. Word is that Yaqui thinks Piddy is stuck-up, shakes her stuff when she walks, and isn't Latin enough with her white skin, good grades, and no accent. And Yaqui isn't kidding around, so Piddy better watch her back. At first Piddy is more concerned with trying to find out more about the father she's never met and how to balance honors courses with her weekend job at the neighborhood hair salon. But as the harassment escalates, avoiding Yaqui and her gang starts to take over Piddy's life. Is there any way for Piddy to survive without closing herself off or running away?"
---
In the Country We Love: My Family Divided by Diane Guerrero
B GUE
"Diane Guerrero, the television actress from the megahit Orange is the New Black and Jane the Virgin, was just fourteen years old on the day her parents and brother were arrested and deported to Colombia while she was at school. Born in the U.S., Guerrero was able to remain in the country and continue her education, depending on the kindness of family friends who took her in and helped her build a life and a successful acting career for herself, without the support system of her family. In the Country We Love is a moving, heartbreaking story of one woman's extraordinary resilience in the face of the nightmarish struggles of undocumented residents in this country."
Happy reading!
—Katie, Adult Reference