If You Liked "Stranger Things"…
Have you seen Stranger Things, Netflix's newest original series?  If not, you need to jump on that immediately because Stranger Things is just about the coolest show to ever hit TV.  It's the story of four 12-year-old boys living in small-town Indiana who find themselves in the middle of some extremely bizarre circumstances when one member of their group disappears.  At first, the sheriff thinks it's a standard missing person's case, but he quickly realizes that something far, far…stranger is afoot.  Stranger Things mixes science fiction, alternate realities, horror, creepy monsters, and 80's nostalgia to create an immensely satisfying story that just about everyone has fallen in love with.  It's Super 8, Poltergeist, Stephen Spielberg, and Stephen King's best writing all rolled into one show.
So if you have a Netflix subscription & you haven't seen the show, start binge watching right now!  (It's only 8 episodes long, so it shouldn't take more than a few days.)  If you have seen the show and are looking for something to replace the El-shaped hole in your heart, check out these books and movies to keep you going.
The Girl With All the Gifts by M.R. Carey
SCIENCE FICTION CAREY
Not every gift is a blessing. Every morning, Melanie waits in her cell to be collected for class. When they come for her, Sergeant Parks keeps his gun pointing at her while two of his people strap her into the wheelchair. She thinks they don't like her. She jokes that she won't bite. But they don't laugh. Melanie is a very special girl. Emotionally charged and gripping from beginning to end, The girl with all the gifts is the most powerful and affecting thriller you will read this year.
---
My Best Friend's Exorcism by Grady Hendrix
HORROR HENDRIX
1988. Charleston, South Carolina. High school sophomores Abby and Gretchen have been best friends since fourth grade. But after an evening of skinnydipping goes disastrously wrong, Gretchen begins to act–different. She's moody. She's irritable. And bizarre incidents keep happening whenever she's nearby. Abby's investigation leads her to some startling discoveries–and by the time their story reaches its terrifying conclusion, the fate of Abby and Gretchen will be determined by a single question: Is their friendship powerful enough to beat the devil?
---
It by Stephen King
HORROR KING
It began–and ended–in 1958 when seven desperate children searched in the drains beneath Derry for an evil creature, but in 1985, Mike Hanlon, once one of those children, makes six phone calls and disinters an unremembered promise that sets off the ultimate terror.
---
Arclight by Josin L. McQuein
TEEN MCQUEIN
The first person to cross the barrier that protects Arclight from the Fade, teenaged Marina has no memory when she is rescued but when one of the Fade infiltrates Arclight, she recognizes it and begins to unlock secrets she never knew she had.
---
Paper Girls, Vol. 1 by Brian K. Vaughn
GRAPHIC NOVEL PAPER
In the early hours after Halloween of 1988, four 12-year-old newspaper delivery girls uncover the most important story of all time. Suburban drama and otherworldly mysteries collide in this smash-hit series about nostalgia, first jobs, and the last days of childhood.
---
Super 8
BLU-RAY SCI S
In the summer of 1979, a group of friends in a small Ohio town witnesses a catastrophic train crash while making a Super 8 movie and soon they suspect that it was not an accident. Shortly after, unusual disappearances and inexplicable events begin to take place in town, and the local deputy tries to uncover the truth, something more terrifying than any of them could have imagined.
---
Disappearance at Devil's Rock by Paul Tremblay
HORROR TREMBLAY
Late one summer night, Elizabeth Sanderson receives the devastating news that every mother fears: her thirteen-year-old son, Tommy, has vanished without a trace in the woods of a local park.  Living in an all-too-real nightmare, riddled with worry, pain, and guilt, Elizabeth is wholly unprepared for the strange series of events that follow. She believes a ghostly shadow of Tommy materializes in her bedroom, while Kate and other local residents claim to see a shadow peering through their windows in the dead of night. Then, random pages torn from Tommy's journal begin to mysteriously appear—entries that reveal an introverted teenager obsessed with the phantasmagoric; the loss of his father, killed in a drunk-driving accident a decade earlier; a folktale involving the devil and the woods of Borderland; and a horrific incident that Tommy believed connects them.
---
The Waking Dark by Robin Wasserman
TEEN WASSERMA
After a series of suicide-killings and a deadly storm, the residents of the town of Oleander, Kansas, start acting even more strangely than would be expected. Only the 5 witnesses of the murders retain their sound minds, and must band together to save the town from whatever has come over it.
---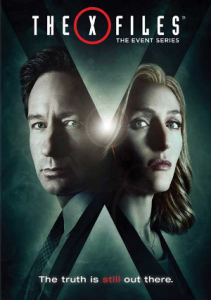 The X-Files
DVD TV X
FBI Agents Fox Mulder and Dana Scully are brought together to work on the X-Files, a collection of FBI cases that are too bizarre to be solved.  What follows is a decade-long investigation in search of the paranormal, the truth, and the conspiracies lurking the shadows of the federal government.
---
Want more recommendations?  Check out these reading lists created by other fans of Stranger Things for even more titles.
A Reading List for Everyone Who Is Now Obsessed With Stranger Things
YA Books for Fans of Stranger Things
13 YA Books That Will Ease Your Stranger Things Withdrawal
Happy reading from the Upside Down!
—Katie, Adult Reference