iMessage Tricks / Trucos de iMessage
If you have an iphone and send text messages with iMessage, here are some things you might not have known how to do:
Enable/disable read receipts:  Allow or disallow others from being notified when you have read their messages.  In Settings, go to Messages, and slide the button next to Send Read Receipts to on or off.  If your read receipts are on, the sender will see "Read [time here]" under your most recent text.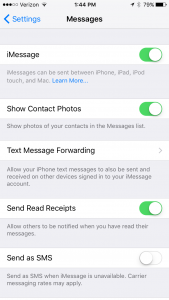 All caps:  When the keyboard is open, double tap the shift key to make it a caps lock key.
Delete a text message:  To delete an individual text message, open the text conversation.  Tap and hold the text you want to delete.  A pop-up menu will appear; tap "More".  A little circle will appear next to each message, with the one you selected checked in blue.  Select any other messages you'd like to delete, and tap the trash icon at the bottom of the screen.  To confirm, tap the Delete Message button at the bottom.  You also can use this process to send the selected message(s) to a contact as a text.
Get emoji's:  Add emoji's to your texts!  Go to Settings –> General –> Keyboards.  Tap Keyboards again and then Add New Keyboard.  Select Emoji.  That's it!  Now when you want to add an emoji, press the smiley face icon next to the spacebar.
How to tell if you're using iMessage:  If the messages are in a blue bubble, you're using iMessage (which use your data plan).  iMessage only works when both people have iPhones.  If the messages are in a green bubble, you're using text messages (which use your texting plan).
Español:
Si tenga un iphone y envie mensajes de texto con iMessage, aquí hay algunas cosas que posiblemente no podría haber sabido cómo hacerlo:
Activar / desactivar las confirmaciones de lectura:  Permita o no permita a otros de ser notificado cuando haya leído sus mensajes. En "Settings", vaya a "Messages", y deslice el botón junto a "Send Read Receipts" de encendido o apagado. Si sus confirmaciones de lectura estén encendidas, el remitente verá " Read [time here]" en el texto más reciente.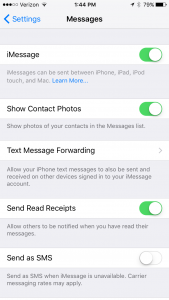 Todas mayúsculas:  Cuando el teclado está abierto, pulse dos veces la tecla de mayúsculas para que sea una tecla de bloqueo de mayúsculas.
Eliminar un mensaje de texto:  Para borrar un mensaje de texto individual, abra la conversación de texto. Pulse y mantenga el texto que desea eliminar. Aparecerá un menú; pulse "More". Un pequeño círculo aparecerá junto a cada mensaje, con el que ha seleccionado marcado en azul. Seleccione cualquier otro mensaje que desea eliminar y pulse en el icono de la basura en la parte inferior de la pantalla. Para confirmar, pulse el botón "Delete Message" en la parte inferior. También puede utilizar este proceso para enviar el mensaje(s) seleccionado a un contacto como texto.
Obtener emojis:  Añada emojis a sus textos! Vaya a Settings –> General –> Keyboards. Pulse "Keyboards" de nuevo y luego en "Add New Keyboard". Seleccione Emoji. ¡Eso es! Ahora, cuando se desea añadir un emoji, pulse el icono de cara sonriente al lado de la barra espaciadora.
¿Cómo saber si usted está usando iMessage:  Si los mensajes estén en burbujas azules, está usando iMessage (que usar su plan de datos). iMessage sólo funciona cuando ambas personas tienen iPhones. Si los mensajes están en una burbuja verde, está utilizando mensajes de texto (que utilizan su plan de mensajes de texto).