Homicide for the Holidays
The weather and the mysteries are frightful this season…If you like a little mystery and mayhem during your holiday break, make sure to check out our Homicide for the Holidays display! If you can't make it into the library this week, we also have an online list of books that you can place on hold directly from your computer. Here are just a few of the highlighted titles from the list! Click on a cover or a title to place a hold.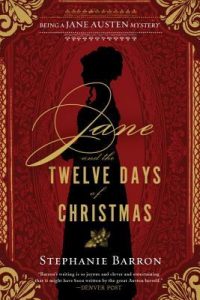 Jane and the Twelve Days of Christmas by Stephanie Barron
MYSTERY BARRON
"Christmas Eve, 1814: Jane Austen has been invited to spend the holiday with family and friends at The Vyne, the gorgeous ancestral home of the wealthy and politically prominent Chute family. As the year fades and friends begin to gather beneath the mistletoe for the twelve days of Christmas festivities, Jane and her circle are in a celebratory mood. Jane, however, discovers holiday cheer is fleeting. One of the Yuletide revelers dies in a tragic accident, which Jane immediately views with suspicion. If the accident was in fact murder, the killer is one of Jane's fellow snow-bound guests. With clues scattered amidst cleverly crafted charades, dark secrets coming to light during parlor games, and old friendships returning to haunt the Christmas parties, whom can Jane trust to help her discover the truth and stop the killer from striking again?"
---
Cheddar Off Dead by Julia Buckley
MYSTERY BUCKLEY
"The Christmas holidays are one of Lilah's favorite times of the year, filled with friends, family, and, of course, tons of food orders for her covered dish clients. But Lilah's Yuletide cheer ends when she sees a most Grinch-like crime: the murder of a Santa in a school parking lot. It turns out the deceased Kris Kringle was a complicated tangle of naughty and nice, with a long list of people who might have wanted him dead. And whoever did the deed wants to make sure that Lilah keeps quiet. Now, Lilah will have to team up with her former fling, Detective Jay Parker, to unwrap the mysteries of a deadly Christmas killer and stay alive long enough to ring in the New Year."
---
The Yiddish Policemen's Union
MYSTERY CHABON
"For sixty years, Jewish refugees and their descendants have prospered in the Federal District of Sitka, a "temporary" safe haven created in the wake of revelations of the Holocaust and the shocking 1948 collapse of the fledgling state of Israel. Now the District is set to revert to Alaskan control, and their dream is coming to an end. But homicide detective Meyer Landsman of the District Police has enough problems without worrying about the upcoming Reversion…In the cheap hotel where he has washed up, someone has just committed a murder—right under Landsman's nose."
---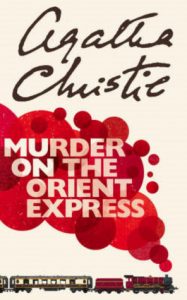 Murder on the Orient Express by Agatha Christie
MYSTERY CHRISTIE
"While en route from Syria to Paris, in the middle of a freezing winter's night, the Orient Express is stopped dead in its tracks by a snowdrift. Passengers awake to find the train still stranded and to discover that a wealthy American has been brutally stabbed to death in his private compartment. Incredibly, that compartment is locked from the inside. With no escape into the wintery landscape the killer must still be on board. Fortunately, the brilliant Belgian inspector Hercule Poirot is also on board, having booked the last available berth."
---
Snowblind by Christopher Golden
HORROR GOLDEN
"The small New England town of Coventry is haunted by its memories of a deadly winter… in which loved ones were lost, families torn apart, and a town buried in a terrible blizzard. Now, twelve years later, the people plagued by their memories of that storm are haunted once again as a new storm approaches, promising to wreak new havoc. Old ghosts trickle back, and this storm will prove even more terrifying and deadly than the last. With richly textured characters, scarred and haunted by the ghosts of those they loved most, Snowblind reinvents the ghost story for today's world."
---
The Snowman by Jo Nesbo
MYSTERY NESBO
"In Oslo, after the first snow of the season has fallen, a woman disappears, and a sinister snowman is left in her wake. As irascible detective Harry Hole realizes that this is only one of multiple disappearances, he begins to think a serial killer may be at work–and may be drawing in Hole personally and intentionally."
---
I Remember You by Yrsa Sigurdardottir
HORROR SIGURDAR
"In an isolated village in the Icelandic Westfjords, three friends set to work renovating a rundown house. But soon, they realize they are not as alone as they thought. Something wants them to leave, and it's making its presence felt. Meanwhile, in a town across the fjord, a young doctor investigating the suicide of an elderly woman discovers that she was obsessed with his vanished son. When the two stories collide, the terrifying truth is uncovered."
---
The Usual Santas: A Collection of Soho Crime Christmas Capers
MYSTERY USUAL
"Nine mall Santas must find the imposter among them. An elderly lady seeks peace from her murderously loud neighbors at Christmastime. A young woman receives a mysterious invitation to Christmas dinner with a stranger. Niccolò Machiavelli sets out to save an Italian city. Sherlock Holmes's one-time nemesis Irene Adler finds herself in an unexpected tangle in Paris while on a routine espionage assignment. Jane Austen searches for the Dowager Duchess of Wilborough's stolen diamonds. These and other adventures in this delectable volume will whisk readers away to Christmases around the globe, from a Korean War POW camp to a Copenhagen refugee squat, from a palatial hotel in 1920s Bombay to a crumbling mansion in Havana."
---
It's a Wonderful Knife by Christine Wenger
MYSTERY WENGER
"All Trixie Matkowski wants for Christmas is a break–just not the broken leg she got after slipping on some ice. With Sandy Harbor alive in the hustle and bustle of the season, it's the busiest time of the year at Trixie's Silver Bullet Diner. There are millions of things to do, including cater the town's annual Christmas pageant and community dinner with some delicious holiday comfort food. But the festivities turn into a bit of a turkey after Liz Fellows, the director of the pageant, is found with Trixie's butcher knife in her back. Now Trixie must help the police arrest the scary gentleman–or lady–guilty of the crime if she hopes to get herself off the naughty list."
Happy holidays and happy reading!
—Katie, Adult Reference