Hispanic Heritage Month – Books From Colombia
As we continue our literary tour of Latin America in honor of Hispanic Heritage Month, let's cross continents to Colombia.  As always, click on a cover or a title to place a hold.
Love in the Time of Cholera by Gabriel Garcia Marquez
FICTION GARCIA
"In their youth, Florentino Ariza and Fermina Daza fall passionately in love. When Fermina eventually chooses to marry a wealthy, well-born doctor, Florentino is devastated, but he is a romantic. As he rises in his business career he whiles away the years in 622 affairs–yet he reserves his heart for Fermina. Her husband dies at last, and Florentino purposefully attends the funeral. Fifty years, nine months, and four days after he first declared his love for Fermina, he will do so again."
---
The Lucky Ones by Julianne Pachico
FICTION PACHICO
"Taking place between 1993 and 2018 in Colombia and New York City, The Lucky Ones is a prismatic tale of a group of characters whose lives intersect in often unexpected ways and whose stories, taken together, provide a lens on the intensity of life in Colombia during the violent years of guerrilla insurgencies and corruption."
---
Reputations by Juan Gabriel Vazquez
FICTION VAZQUEZ
"An influential political cartoonist is paid an unexpected visit by a young woman who upends his sense of personal history and forces him to reevaluate his life, work, and position in the world."
---
My Life as a Colombian Revolutionary: Reflections of a Former Guerillera by Maria Eugenia Vasquez-Perdomo
986.10632092 VASQUEZ
"Presents an account of the author's experiences as a member of M-19, one of the most successful guerrilla movements in Colombia's tumultuous modern history. This book also tells about her childhood in a middle-class provincial household in which she was encouraged to be adventurous and inquisitive."
---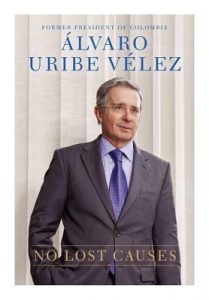 No Lost Causes by Alvaro Uribe Velez
B URI
"One of the most inspiring and successful global leaders of the early 21st century explains how bold, imaginative leadership can solve even the most intractable problems–and why there is no such thing as a lost cause. Just a decade ago, Colombia was regarded as a "failed state," besieged by megalomaniacal drug kingpins, ruthless terrorist groups, and abominable poverty. But since 2002, it has been dramatically transformed into a far more peaceful, stable modern democracy with a promising future. Now, the man who led the transformation, former Colombian president Álvaro Uribe Vélez, offers the untold story of how, at enormous personal risk, he refused to accept Colombia's perilous status quo. He also explores practical lessons of hands-on management, relevant to both political and business leaders."
Happy reading!
—Katie, Adult Reference