Hexes, Curses, and Spells: A Witchy Reading List
In March of 1692, three women in Salem, Massachusetts – Sarah Goode, Sarah Osborne, and Tituba (a slave from Barbados) – were charged with witchcraft, and thus the Salem Witch Trials began.  But even though the trials themselves occurred 325 years ago and lasted only a few months, we're still fascinated with witches and the hysteria that emerged over three centuries ago.  If you're looking for a little witch-related reading, take a look at some of these titles.
The Fifth Petal by Brunonia Barry
MYSTERY BARRY
"When a teenage boy dies suspiciously on Halloween, chief of police John Rafferty suspects it may be linked to the triple homicide twenty-five years earlier involving three descendants of Salem Witch Trial victims."
---
Hex by Thomas Olde Heuvelt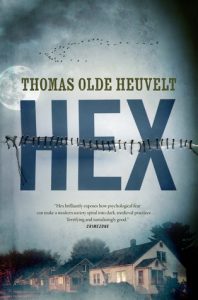 HORROR HEUVELT
"Whoever is born here, is doomed to stay 'til death. Whoever settles, never leaves. Welcome to Black Spring, the seemingly picturesque Hudson Valley town haunted by the Black Rock Witch, a seventeenth century woman whose eyes and mouth are sewn shut. Muzzled, she walks the streets and enters homes at will. She stands next to children's bed for nights on end. Everybody knows that her eyes may never be opened or the consequences will be too terrible to bear. The elders of Black Spring have virtually quarantined the town by using high-tech surveillance to prevent their curse from spreading. Frustrated with being kept in lockdown, the town's teenagers decide to break their strict regulations and go viral with the haunting. But, in so doing, they send the town spiraling into dark, medieval practices of the distant past."
---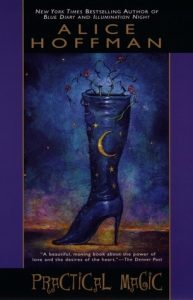 Practical Magic by Alice Hoffman
FANTASY HOFFMAN
"For more than two hundred years, the Owens women had been blamed for everything that went wrong in their Massachusetts town. And Gillian and Sally endured that fate as well: As children, the sisters were forever outsiders, taunted, talked about, pointed at. Their elderly aunts almost seemed to encourage the whispers of witchery, with their musty house and their exotic concoctions and their crowd of black cats. But all Gillian and Sally wanted was to escape. One would do so by marrying, the other by running away. But the bonds they shared, even into adulthood, brought them back–almost as if by magic… "
---
The Physick Book of Deliverance Dane by Katherine Howe
FICTION HOWE
"While readying her grandmother's abandoned home for sale, Connie Goodwin discovers an ancient key in a seventeenth-century Bible with a scrap of parchment bearing the name Deliverance Dane. In her quest to discover who this woman was and seeking a rare artifact–a physick book–Connie begins to feel haunted by visions of the long-ago witch trials and fears that she may be more tied to Salem's past than she could have imagined."
---
The Heretic's Daughter by Kathleen Kent
FICTION KENT
"Martha Carrier was one of the first women to be accused, tried and hanged as a witch in Salem, Massachusetts. Like her mother, young Sarah Carrier is bright and willful, openly challenging the small, brutal world in which they live. Often at odds with one another, mother and daughter are forced to stand together against the escalating hysteria of the trials and the superstitious tyranny that led to the torture and imprisonment of more than 200 people accused of witchcraft. This is the story of Martha's courageous defiance and ultimate death, as told by the daughter who survived."
---
The Crucible by Arthur Miller
812.5 MILLER
"In the rigid theocracy of Salem, rumors that women are practicing witchcraft galvanize the town's most basic fears and suspicions; and when a young girl accuses Elizabeth Proctor of being a witch, self-righteous church leaders and townspeople insist that Elizabeth be brought to trial. The ruthlessness of the prosecutors and the eagerness of neighbor to testify against neighbor brilliantly illuminate the destructive power of socially sanctioned violence. Written in 1953, The Crucible is a mirror Miller uses to reflect the anti-communist hysteria inspired by Senator Joseph McCarthy's "witch-hunts" in the United States."
---
A Season With the Witch: The Magic and Mayhem of Halloween in Salem, Massachusetts by J.W. Ocker
133.4309 OCKER
"Follows the author's experiences of living in downtown Salem in the fall of 2015, blending an exploration of all the historical sites and attractions with interviews locals and visitors to create a portrait of the city."
---
The Witches: Salem, 1692 by Stacy Schiff
133.4309 SCHIFF
"The Pulitzer Prize-winning author of Cleopatra analyzes the Salem Witch Trials to offer key insights into the role of women in its events while explaining how its tragedies became possible. It began in 1692, over an exceptionally raw Massachusetts winter, when a minister's daughter began to scream and convulse. It ended less than a year later, but not before 19 men and women had been hanged and an elderly man crushed to death."
Happy reading!
—Katie, Adult Reference