Have You Heard About… We Were Liars
… the young adult novel that everyone's reading, but no one is talking about? We Were Liars by E. Lockhart has generated a lot of attention over the last couple months, but the first thing you notice when you open the book is a note from the publisher asking to keep the plot a secret.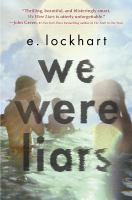 The story includes a privileged family, a terrible event that no one will talk about, a destructive friendship, and lies upon lies upon lies, but that's all I'm going to say.
Prepare to scrape your jaw off the floor. And if anyone asks you how the book ends, LIE.
Reviewed by Katie (staff)