Have You Heard About… Threadbare
… the latest murder in Excelsior, Minnesota? In the newest mystery from Monica Ferris, Threadbare* tells the story of two murdered homeless women. These women really had nothing in common except that they were homeless, and when the niece of one of the women asks Betsy to help her, another body turns up frozen in the snow. Could the murders be connected? A piece of Hardanger needlecraft is found on one of the women. Is it a clue?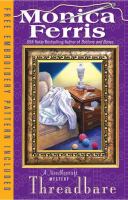 The plight of the homeless is good part of the storyline. Betsy's needlecraft shop, Crewel World, is also a part of the story. Relatives of the homeless women, of course, are some of the suspects. It isn't until the very end that the mystery unfolds itself into a shocking tale of greed.
This is a stand alone book with enough back story so you will understand why Betsy can take off from her job at Crewel World.
* Earlier books in the series are Crewel World, Framed in Lace, A Stitch in Time, Unraveled Sleeve, A Murderous Yarn, Hanging by a Thread, Cutwork, Crewel Yule, Embroidered Truths, Sins and Needles, Knitting Bones, Thai Die, Blackwork and Buttons and Bones.
Reviewed by Terry (staff)