Have You Heard About… The Sweetness at the Bottom of the Pie
… the ten year old girl who solves a murder before the police do? C. Alan Bradley's cozy mystery novel, The Sweetness at the Bottom of the Pie, introduces us to Flavia de Luce, one of the most precocious and inventive heroines in recent literary memory.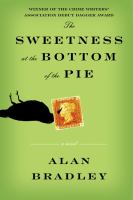 This was my first foray into the world of cozy mysteries, and Flavia, the book's ten-year-old narrator and amateur sleuth, won me over from the first page. She has more spunk and personality than all of the other characters combined, and with her keen mind and penchant for chemistry and poisons, she is the perfect person to investigate the murder of a mysterious man in her family's cucumber patch.
Since the story takes place in a sheltered, rural English town, Flavia has the freedom to travel all over the county with her trusted bike, Gladys, in order to solve the mystery. Her travels take her to the town library, an all-boys academy where her father and the murdered man were classmates, and to the jailhouse, where she visits her father who is being held under suspicion of murder.
Flavia's voice really makes this story what it is, with her vivid imagination and her dry and surprising humor. The mystery itself was interesting enough (well plotted, but no big twists or surprises), but Flavia made me keep coming back for more. If the world had more ten-year-old girls like her, it would be a much more interesting place.
Reviewed by Katie (staff)