Have You Heard About… The Sculptor
… the guy who makes a deal with Death? He is given a choice — a long, full, normal life, or 200 days with the ability to make the art of his dreams. David chooses his art.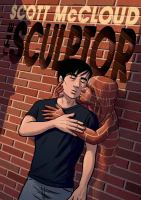 In Scott McCloud's The Sculptor, David is at the end of his rope. His parents and sister are dead. He is about to be evicted. His abrasive personality has driven away his patron and almost all of his friends. All he ever wanted was to be a great sculptor, but he doesn't have money for supplies to make new pieces and attract a new patron. The lack of supplies doesn't matter anyway, since nothing he makes can live up to the ideas in his head.
With nothing to live for except his art, David takes the 200 days. However, he quickly learns that even the art of his dreams can't make his life perfect. Can he turn it around in a few short months? What will he do if he finds something to live for, when his time still has a limit?
The Sculptor is one of those books that I finished and immediately handed off to someone else. It's beautifully written and stunningly illustrated. Don't let the thickness intimidate you – this is a fast read and well worth it!
Reviewed by Fran (staff)