Have You Heard About… The Martian
… the debut novel that's part science fiction, part survival thriller, and 100% amazing? In Andy Weir's novel, The Martian, astronaut Mark Watney is stranded on Mars after his crew mistakenly believes him to be dead. When he comes to, he is faced with the nearly insurmountable task of trying to survive in an alien and hostile environment with limited supplies and technological capabilities…for a period of up to four years.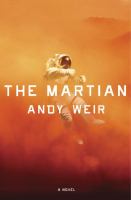 It's an intriguing concept, but it doesn't even come close to explaining why this book has been so successful. The actual science behind the story is rock solid and insanely detailed, but it never feels overwhelming. The suspense about Mark's survival situation is unrelenting until the very last pages. The humor is, well, hilarious. (I literally laughed out loud while reading this book, at home, by myself.) It's like reading a Michael Crichton novel with a sarcastic streak. And without giving away any spoilers, the ending is pitch-perfect.
When I finished this book, I had an urge to a) turn right to the front of the book and start reading again, b) run around and start smacking people upside the head until they agreed to read it, or c) throw the book in the air in a fit of uncontrollable joy and excitement. This may end up being my favorite book of 2014, and we're not even halfway through the year! I haven't been this thrilled about a book in a very, very long time.
Reviewed by Katie (staff)