Have You Heard About… The Fangirl's Guide to the Galaxy
… the joys of fandom? Science fiction, fantasy, cosplay, gaming, comics, and much more – Sam Maggs covers it all in The Fangirl's Guide to the Galaxy. She gives a quick overview of everything from different types of fandoms, meeting other fans in real life and online, dealing with trolls, attending conventions, and being a feminist. Unfortunately, the book would have been bigger than the entire Harry Potter series if it included all of the great stuff about fandom and fangirls, so she also covers where to go for more. Plus, there are interviews with female authors, artists, actresses, and other famous fangirls.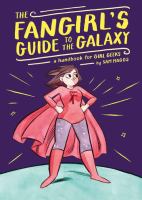 This is a great book for fangirls (and guys!) of all ages and experience levels. I have been a geek my whole life and active in fandom for many years. In addition to lots of "Yes, this!" moments, I came away with some great new ideas and things to read, watch and do. (Let's be honest, can you ever really have enough geeky goodness?) I'm looking forward to sharing this book with my nieces when they get a little older, too.
Reviewed by Fran (staff)