Have You Heard About… The Age of Miracles
…what happens if the earth's rotation starts to slow?  Karen Thompson Walker gives us a thoughtful and bittersweet answer in her literary apocalyptic debut novel, The Age of Miracles.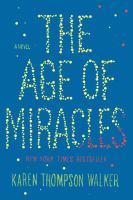 The novel asks us an unusual yet profound question: What happens when our concepts of "day" and "night" no longer exist? In the story, scientists have discovered that the Earth's rotation is slowing, to the point where society no longer operates on a 24 hour schedule. Crops start dying. Sickness and disease start spreading. Some people abandon clocks all together and attempt to function using their circadian rhythms. The Earth's gravitational force starts to shift. No one knows what's causing it, and no one knows how to stop it.
The plot occurs during the first year of the slowing and centers around eleven-year-old Julia. Julia is the story's only narrator, but she is recalling the events of that first year from a point many years in the future.
The emphasis is on complex, unanswerable questions, lyrical writing, nostalgia, and a bittersweet remembrance of how life used to be before the earth slowed.  I imagine it as a reading journey – the story captures you at the very beginning and leaves you with an ache in your heart and more questions than answers.
Reviewed by Katie (staff)