Have You Heard About… The 5th Wave
… the new YA dystopian novel that's received rave reviews from readers and critics alike? Meet The 5th Wave by Rick Yancey, part one of a projected alien invasion dystopian trilogy.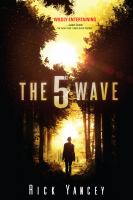 The basic premise is that aliens have visited Earth and are methodically wiping out the human population, deploying destructive "waves" that involve everything from viruses to natural disasters to placing human/alien implants into what's left of the human race so that no one knows who to believe. Mulder's mantra on the X-Files becomes particularly relevant in this situation: Trust No One.
Cassie Sullivan is alone after watching her father die and her little brother board a school bus to a mysterious military base. When she is taken down by an unseen sniper and left to die, she finds herself in the care of a mysterious eighteen-year-old guy named Evan Walker. Cassie needs him in order to find her brother but there's something about him that doesn't make sense, and if Cassie trusts him, will she be placing her trust in the enemy's hands?
Now THIS is how you do young adult dystopian fiction! This is not a knockoff of the latest trend. This is not dripping in sappy, all-consuming romance. This is genuine, hard-edged, scary, paranoid, thrilling YA fiction with some really solid writing. Now, I hardly consider myself an authority on YA literature, but this is one of the best-written teen novels I've read in a very long time. Some people are referring to this as the next Hunger Games, and while the two don't have much in common plot-wise, I wholeheartedly believe that this will be the next big thing in the YA world. Don't miss it.
Reviewed by Katie (staff)