Have You Heard About… Sugar and Spice
… the mousy librarian who ended up with the hunky undercover FBI agent?  In this 1987 large-print reissue of Sugar and Spice by Debbie Macomber, plain-looking Jayne Gilbert is determined to go to her high school reunion with a good-looking guy. Being a librarian, she checks out a book called How to Pick up a Man. She knows that you can learn a lot of  useful information by reading!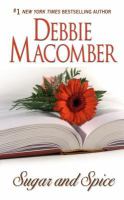 In her apartment elevator, Jayne runs into her neighbor, Riley Chambers – literally. Riley thinks she wants to find a guy and get married when he sees the title of her book. Jayne has no idea that Riley is an undercover FBI agent, and he's determined to keep it that way. Through a lot of teasing and misunderstanding, and a best friend who encourages Jayne to take a chance on love, Jayne and Riley finally come together in a very predictable ending, with a slight twist, that will leave you with the "warm fuzzies." This was a fun fast read that I thoroughly enjoyed.
Reviewed by Terry (staff)