Have You Heard About… Rango
… Clint Eastwood turning into a chameleon? That's the idea behind Rango — a very hip and totally unique DVD. Rango blows into the town of Dirt and takes on the Eastwood persona. Think The Good, the Bad and the Ugly, music and all, only with the residents of the desert turned into cartoon characters in place of people.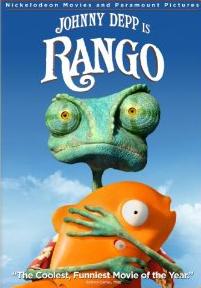 No, Clint Eastwood isn't in the movie, exactly – just listen and watch. Also, be sure to watch the special features to see how this movie came about. Kids will like the cartoon aspect and adults will get a kick out of the western satire.
Reviewed by Terry (staff)