Have You Heard About… Press Here
… the great interactive picture book? Apparently, I really missed the boat on Herve Tullet's Press Here. It was one of the rare picture books to make it onto the New York Times Bestseller List, there has been a ton of positive press about it, we have two copies in the library, yet I had never read it. A friend recommended it, so I got a copy and brought it home to Marie, my almost-2-year-old.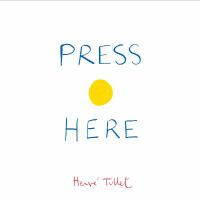 She had a blast! This book is not a beautiful story. It doesn't have scenic illustrations, but it is the most interactive book she and I have read together, including her pop-up books. The first page has a yellow dot on a blank what page and simply says, "Press here and turn the page." Once you press the yellow dot and turn the page, you see that your participation has caused the dot to multiply! Gently rubbing this other dot will cause the dot to change color. Tapping on a different dot will create rows of new dots in the same color. Shake the book to mix the dots around. Clap to make the dots grow in size. It's so simple, it's brilliant!
Marie and I were laughing and laughing! When it comes time to shake the book (my favorite part), Marie shakes more of herself than anything else. Adorable! Don't miss the fun. Enjoy!!!
Reviewed by Heidi (staff)