Have You Heard About… Paper Towns
… Quentin Jacobsen's journey to find love? John Green's novel, Paper Towns, takes a common young adult theme (boy searches for girl) and turns it into a quirky, poignant, and hilarious mystery. The story is told from the perspective of Quentin Jacobsen, a high school senior in the last few weeks before graduation. One night, Margo Roth Spiegelman, the supremely adventurous girl Quentin has loved from afar, climbs into his window ninja-style and pulls him along to help her get revenge on several of her friends. (The quest itself is ingenious, involving a dead fish in the backseat of a car and some carefully placed Nair.)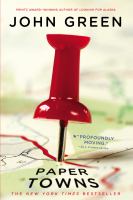 After their all-nighter ends, Margo disappears, leaving a small trail of clues behind her. In his desperation to understand the enigma that is Margo, Quentin sets out after her with his best friends in tow. But as he moves down the disconnected path that Margo has set out for him, Quentin realizes that Margo is not the girl he knew.
Paper Towns was my first John Green novel, and it really has a lot to offer. The mystery itself is very well done without falling into the slightly cheesy trap of the teenager playing the amateur sleuth. And the writing is sharp and witty– I found myself literally laughing out loud, particularly when Margo and Quentin exact satisfying revenge on their classmates in the middle of the night.
This is one of those rare books that appeals to teens and adults, and it's a welcome change from the plethora of apocalyptic and paranormal tales saturating the market.
Reviewed by Katie (staff)