Have You Heard About… My Planet
… Mary Roach's short essays that were published in Reader's Digest for several years? I'm quite familiar with her hilarious science writing, but these Reader's Digest articles were a big surprise for me. And even though My Planet: Finding Humor in the Oddest Places doesn't have the sophistication or the subject matter of her previous novels, I managed to LOL through this entire collection of Roach's fabulous reflections on domestic life.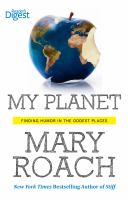 I've heard a couple of reviewers refer to this as bathroom reading – short essays designed to be read in the span of a few minutes – and that's probably the best way to approach this book. Trying to read large chunks of the book can be a little exhausting, especially when you realize just how many essays are included, but two or three provides a perfectly sized dose of her trademark humor. Such as:
"Like any normal couple, we refused to accept each other's differences and did whatever we could to annoy the other person."
Or
"A family is a collection of people who share the same genes but cannot agree on a place to pull over for lunch."
Or
"Not long ago, a mysterious Christmas card dropped through our mail slot. The envelope was addressed to a man named Raoul, who, I was relatively certain, did not live with us."
Quite frankly, I don't really care what Mary Roach writes. She's just too darn funny for her own good.
Reviewed by Katie (staff)