Have You Heard About… Mr. Penumbra's 24-Hour Bookstore
… the all-night bookstore in San Francisco? Mr. Penumbra's 24-Hour Bookstore, by Robin Sloan, tells the story of Clay Jannon and how he stumbles upon a secret society that has been pursuing immortality since the earliest days of the printing press. Along the way, he'll visit the fabled halls of Google, an underground library in New York, and the California Museum of Knitting Arts and Embroidery Sciences.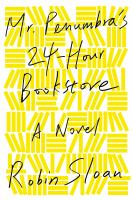 I first heard about Mr. Penumbra and Clay Jannon on an Escape Pod podcast, and I recommended it to the library as soon as I learned that it was being published as a book. The book expands considerably on the initial story, taking Clay (and the reader) on a long, somewhat surreal journey to discover the truth behind the origins of the Unbroken Spine. A host of odd characters join Clay — puzzle-obsessed members of the secret society, an old friend who made his fortune designing CGI breasts for videogames, a roommate who is building a miniature city in their living room, and many others. All in all, this is a fun, although utterly bizarre book.
Reviewed by Fran (staff)