Have You Heard About… Monster on the Hill
… the horrible beast that rampages through the town regularly, causing moderate property damage and making people to flee to safe hiding spots? With its fangs and horns and fearsome roar, our monster is undoubtedly the most amazing you have ever seen. For a limited time, you can also buy souvenir rubble, posters, and ice cream treats. Don't leave town until you've been terrified by our Monster on the Hill!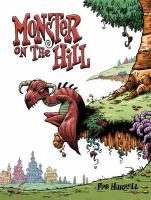 Author and illustrator Rob Harrell does a wonderful job with this graphic novel. If a town's monster is important to its tourist trade and social standing, what happens when the local monster gets depressed and just doesn't feel like frighting the good fright any more? For one thing, disappointment is palpable in the streets of Stoker-on-Avon. (It makes the newspaper headlines, so it must be true.) For another, the city council gets desperate enough to send the local man of science to cure the monster, fortunately with a little unplanned assistance.
Monster on the Hill is a wonderfully fun, silly story with some sound advice for people who have gotten into a slump. Read it when you're feeling blue and try some of the techniques that help the monster of Stoker-on-Avon get back into top form. (You should probably skip the trepanning though.)
Reviewed by Fran (staff)