Have You Heard About… Midnight Riot
… the wizards in London? No, this isn't a new Harry Potter book. Ben Aaronovitch's Midnight Riot* is set in modern England, but its magic is much darker and grittier, and somehow more realistic, than J. K. Rowling's style. Peter Grant is just finishing his training with London's Metropolitan Police when he takes an eyewitness report from a ghost. That brings him to the attention of Detective Chief Inspector Thomas Nightingale, who takes him on as an apprentice and introduces him to the wonders and horrors of the magical world. Peter's life will never be dull, or safe, again.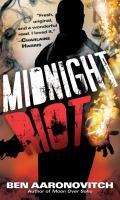 Midnight Riot beautifully melds police procedurals with urban fantasy. Aaronovitch guides us through the dark side of London, where an evil spirit takes over people to commit murder and spread chaos. Along the way, he introduces us to a number of neighborhoods and institutions, filled with surprising amounts of history about both the city and police work. The result is an enthralling, beautifully-detailed book filled with rich characters and an amazing mix of humor and horror.
* Later books in the series include Moon over Soho and Whispers under Ground.