Have You Heard About… Midnight Encounters
… the shamelessly sexy and fun story of Maggie Reilly, the woman who thinks she has no time for love? Fans of Fifty Shades of Grey who are hungry for another story of a relatable female protagonist and powerful male hero with a dark side will devour Midnight Encounters by Elle Kennedy.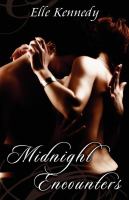 Maggie is a busy student, waitress and volunteer worker with no time for love; the only concession she makes to her needs is the occasional weekend tryst with her "special friend" Tony. Maggie bounces into a hotel room she believes belongs to Tony only to be shocked by the presence of another man: Ben. Ben is a bad boy Hollywood movie star who thinks that love has no place in his life, just like Maggie. Can you see the writing on the wall? There's no doubt about the novel's outcome, but the inevitability doesn't detract from the fun read. Rather, it gives Midnight Encounters the feel of a fairy tale, modern-style.
Reviewed by Sara (staff)